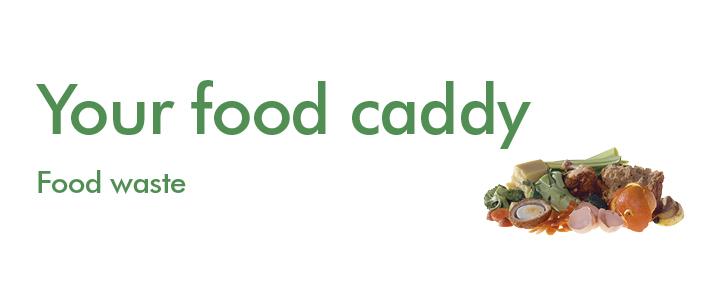 Your food caddy/bin
Here's an indicative list of what can and cannot go in your green food bin or caddy.
✔ Cooked and uncooked food
✔ Leftovers
✔ Fruit and vegetable peelings
✔ Tea bags and coffee grounds
✔ Egg shells
✔ Out of date food (remove packaging)
✔ Bread, pasta and cakes
✔ Meat, fish and small bones
✘ Plastic bags
✘ Packaging
✘ Liquids
✘ Fats and oils
✘ Plastics, cans and glass
✘ Paper, card and cardboard
✘ Garden waste
Need more liners? Please tie one liner to the handle of your food caddy and the collection crew will leave you a new roll - please be advised they only have a set amount with them on their rounds.
Normally, you can also collect a roll of liners from any household waste recycling centre, but due to the current pandemic this is not possible.
Please call 0300 300 0380 or email Food Caddy bags.
You can put food waste directly into your food caddy or wrapped in newspaper if you want to do so.