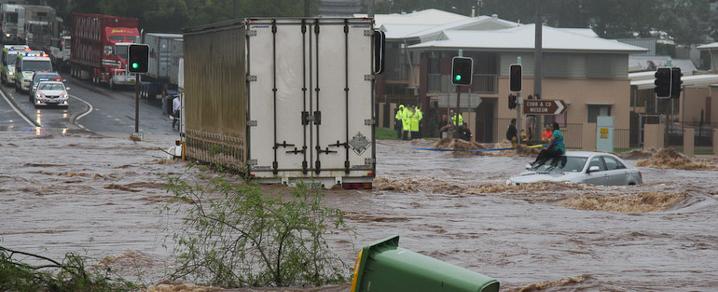 Our role in dealing with flooding
Property owners have the main responsibility for safeguarding and insuring land or property against all natural hazards including flooding.
The council has duties to reduce the risk of flooding and these duties are defined in law and in national planning policy and advice.
A list of relevant links is provided in the 'related links' section of this page.

Renfrewshire Council has a responsibility to take account of the probability and the risk of flooding from all sources when preparing the local plan and structure plan and when deciding planning and building standards applications. Information on the structure plan is available at the Glasgow and Clyde Valley Strategic Development Planning Authority website.
The document, 'New Development Supplementary Guidance' has a section of the Renfrewshire Local Plan which contains the local plan flood policies.
The council also has a duty to publicise every 2 years a report on flooding events and measures we propose to take to reduce flood problems.
Further responsibilities include:
To set up a 'Flood liaison and advice group' to provide practical guidance and information on flood risk and its implications for development.
To construct flood prevention schemes. More information on these is available on our flood prevention schemes page.
To work with police, fire and rescue services in response to severe flooding.
To co-ordinate rest centres for people evacuated from their homes during severe flood events and arrange temporary accommodation if needed.
To assess and maintain watercourses such as rivers, streams and culverts to reduce the risk of flooding.
Our responsibility is limited. We have a duty to assess watercourses in our area from time to time, and to find out whether the condition of any of them is likely to cause flooding of non-agricultural land.
If we feel that clearing a watercourse would substantially reduce the likelihood of flooding, we have the powers to carry out that work. For instance, if a wall has fallen into a burn we can remove it. The majority of flooding is caused not only by inadequate maintenance, but by a lack of capacity in watercourses or culverts.

We have introduced a system of inspection and clearing of watercourses and grids at key locations throughout Renfrewshire.
How often we inspect depends on the season and, to some extent, on weather predictions. However, the accuracy of these forecasts varies considerably!
In the area of north Renfrew near to the River Clyde, the Scottish Environmental Protection Agency provide a more sophisticated warning system which makes more accurate predictions of the extent and length of flooding events.

We are not responsible for maintaining all rivers and their banks nor for all culverts - this is the duty of land owners. However, we have a responsibility to take action where we become aware that there is a risk of flooding, for example, where there is an obstruction which may block a river and cause flooding to other property.