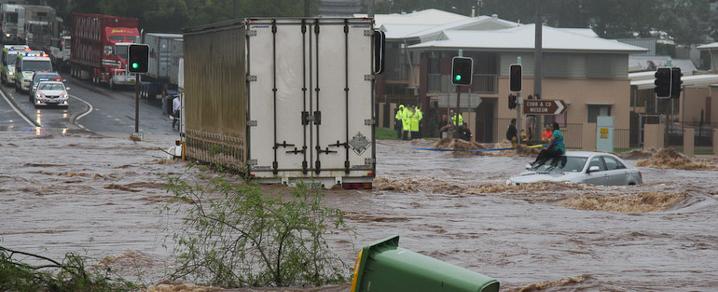 Emergency advice on flooding
If you live in a flood prone area, be aware of the effects of long wet periods and the chance that sudden rain can cause flash flooding.
Make up a flood kit, with a torch, battery radio, warm clothing, wellingtons, rubber gloves, medications, insurance policy and other useful things, and keep it in a box in a safe place.
Winter floods are often accompanies by severe gale force winds. Remember that the council may have teams of workers out taking down dangerous trees or clearing fallen trees - not all our employees can be diverted onto flood work. In severe weather conditions such as flooding, deep snow, ice and gales the council and the emergency services can be affected or overwhelmed.
Our priority is to act immediately on any threat or danger to life and we work closely with the emergency services in sharing our resources. We must keep essential roads open for emergency services to use. If you are fit and able, you will be expected to try to help yourself as much as you can.
In a flood threat situation, for example, don't just wait around for help, you can successfully block doors and ground-level air vents with sandbags made quickly from plastic bags and earth.
In the event of flood waters entering your home, move people and pets immediately upstairs or to higher property and await rescue. Consider your neighbour - they may be struggling alone and could use your help. Find out how to turn off your gas and electricity in case you have to leave your home. Failure of gas, electricity and telephones during floods and gales is common, so find out how to do it now.
Don't attempt to drive through floodwater - as well as the risk of breaking down, your vehicle may well obstruct the road for emergency services.
Don't walk outside unnecessarily in floods, or allow children to play in the flood waters. Flooding can open up manholes, road works and hide culverts, all of which can pose a danger.
Evacuation from an area by the emergency services or the council is only done where absolutely necessary. It usually means that utility services failures are going to be long and that the temperatures are low enough to cause concern for the health of the young, infirm and the elderly. If you are asked to move from your home, please do so quickly, taking as few items as possible, but ensure that you have all medication required by your family members. Switch off gas and electricity - even if the supply has failed and lock up the house.
In the event of evacuation, we will set up a rest centre close by to accommodate you, which will be warm and dry and where refreshments, food and support will be provided. You may have to stay overnight, or at least until it is possible to return safely to your home. We will register you and your family and any special needs or concerns will be noted at the rest centre, so that we can better support and assist you.
Flood water may contain contamination or sewage. On your return home, clean and disinfect everything that may have come into contact with flood water. Clean your taps with disinfectant and let the water run for several minutes. Use rubber gloves as much as possible when handling items and always wash your hands well before eating or drinking.