Musings of the Tannahill Makar: Seeking Paisley Radicals
I was initially asked to write about the Paisley Radicals for the opening of the Paisley Book Festival and the question arose, who exactly were they?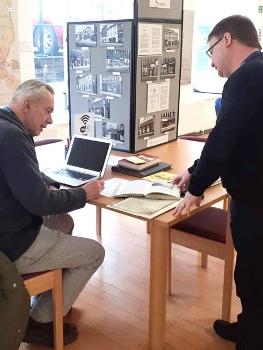 When doing some initial research, I found connections to the Napoleonic Wars, the French Revolution, The Paisley radical war, Red Clydeside and that was only the tip of the Paisley iceberg of historical radicalism and rebellion. Talk about opening the proverbial can of worms!
in the end, the thin edge of my Paisley Radical wedge begins with the phenomenon of the weaver poet of whom there were quite a few in Renfrewshire - Alexander Wilson of Paisley, Robert Allan of Kilbarchan to name a few. One in particular was fated to become one of Paisley's most famous sons - Robert Tannahill.
In 1810, at the age of 35, Tannahill, unfortunately took his own life. Near the Paisley canal walkway path, the poet's discarded coat and silver pocket watch were found on the south side of a culvert of Candren burn, that today, is mapped as Tannahill's Hole.
He was initially buried in an unmarked grave in Castlehead Church cemetery. Unmarked as it wasn't consecrated, because suicide was deemed a sin. Laterally, in 1866, a monument was erected over his remains which can still be viewed to this day.
From 1876 - 1936, a series of concerts were held in the Gleniffer Braes, a place where Tannahill found solace whenever his wanderings took him there. The first concert attracted a crowd of 15,000. From the proceeds of these concerts, some statues were erected in the Abbey Close, opposite Paisley Town hall, one of which was Tannahill.
On the base of Tannahill's statue is an image of a trio of young women. This represents some women working in a field, that Tannahill, in passing, overheard singing one of his songs, which pleased him greatly when he realised his work was enjoyed and appreciated by others.
The following is a poem written after a few visits to Tannahill's grave. A large part of this poem was written in the Paisley Heritage Centre at Abbey Mill Business Centre where I've been researching the Paisley radicals, assisted extensively by Bryan, Carol and their other colleagues. A resource not to be missed if you're interested in any local history or genealogy.
A BREEZE OF GOOD FORTUNE
At Canal Street's Railway Path,
the church's wrought-iron gates
are padlocked with decay
as if the church is a prop for a horror-movie.
We stumble over dry twigs and crunch leaves,
squelch mud underfoot,
the thorny undergrowth
grabs at our ankles
as we wind our way past the dead.
Headstones consumed by moss.
Through this neglect,
out of reach and out of touch
for none but the intrepid to find;
are the remains of Robert Tannahill.
Buried beside
weavers and painters and tinsmiths,
and coopers and grocers and farmers
and dyers and bakers and shoemakers,
and masons and teachers and cotton spinners
and labourers and tailors and fleshers
and brewers and pawnbrokers and cholera victims.
and his tenant neighbours, the Paisley poor.
His sentinels, a smattering of Yews, Trees of death,
that folk-lore has us believe
sucked nourishment from the corpses.
Perhaps, with this weaver of life,
they sucked out
his airs from his cracked flute
and poems that danced to the hum of his whirring loom,
then regurgitated them into the air
to drift through the years
wherever the breeze of good fortune
had a mind to travel,
to touch the hearts and souls and ears
of any far flung Paisley Buddies
pining for a taste of home.
Brian Whittingham
Published 14 February 2020
Pictured: Brian Whittingham conducting research at the Paisley Heritage Centre, assisted by Bryan Smith.