Supporting a local cause
It's 2020 and a new year brings with it a new charity to support!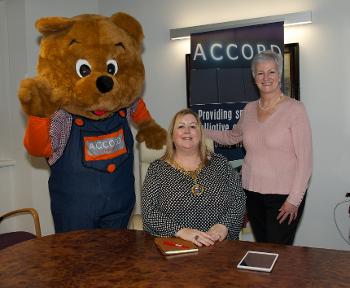 This year I'm looking forward to supporting ACCORD Hospice - a brilliant local charity who have provided high quality end of life care to people in our communities since 1982.
As well as an Inpatient Unit, accommodating eight patients in individual rooms, ACCORD also has a Day Therapy Unit where patients can take part in various activities designed to improve self-esteem and confidence, encourage socialisation and maintain and improve mobility and co-ordination.
Not only do they have on site physiotherapy and occupational therapy, the team at ACCORD also offer a hairdressing service which can include offering guidance with wigs or scarfs at a time where dealing with such a situation may be upsetting.
There are so many ways to fundraise for ACCORD and I can't wait to get started. The team already have their own calendar of events you can take part in, from an Artic Trek to "It's A Knockout", and you can also organise your own fundraiser event and do it all in aid of ACCORD.
ACCORD have six shops across Renfrewshire selling everything from clothing to furniture and electrical goods so if you're having a clear out in 2020 then why not think of ACCORD? The team will be very pleased to receive your donations.
Keep an eye out on my blog over the next few months to find out more about how you can help me support ACCORD this year!
Lorraine