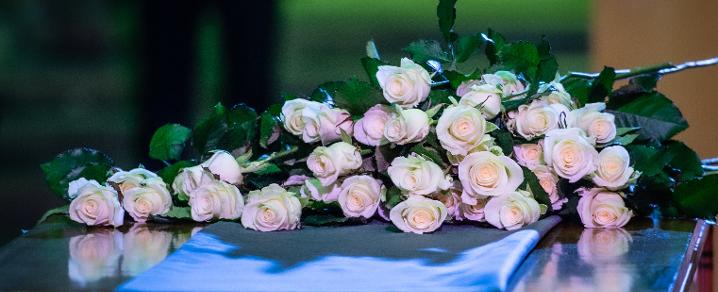 Musings of the Tannahill Makar: The Glen Cinema Memorial Service
Recently I attended the memorial service held at Paisley Abbey for the Glen Cinema disaster, where I read my commissioned poem 'CHEERING AND STOMPING'.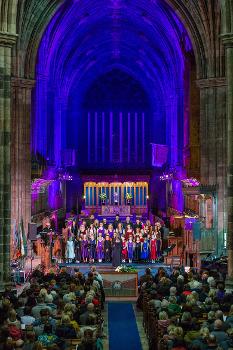 This event is memorialised every year as Paisley remembers and reflects on how families, individuals and the wider community were, and still are, affected by this saddest of stories.
There were two surviving members in attendance, Robert and Emily, both in their nineties and there were families and many children, who took part in the lantern parade and made up the choirs that sang so beautifully on the day as did Carol Laula.
Whilst it was a wild wet windy evening, the whole experience for me, was that of a poignant and moving evening focusing on reflection and perspective and thanks for all that's going on in our own lives when we consider these young lives who didn't get the opportunity to live out their possibilities.
My starting off point for writing the poem was a visit to Hawkhead Cemetery where there is a memorial for the children which has a short avenue dotted with small white headstones flanking the graves leading up to it. In the poem I've imagined I'm talking to their spirits.
I'm grateful for the opportunities the Makar role has presented to me. My own children were at this event and therefore they themselves learned about this slice of Paisley history, ensuring that the stories and memories keep getting passed on, generation to generation.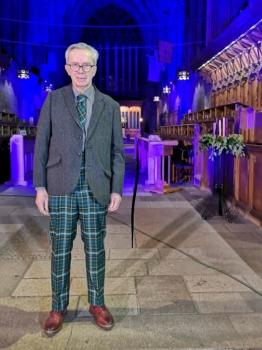 Their story is one of the saddest one could imagine and you would do well to learn it if you do not already know of the event. This photo shows me wearing my Tannahill Tartan Trews that I wear to help encourage others to celebrate one of Paisley's favourite sons.
The following is a short prose introduction followed by my poem CHEERING AND STOMPING.
---
On 3 January 2019, I visited Hawkhead Cemetery, to view the memorial for the 71 children who died in the Glen Cinema tragedy of Hogmanay 1929.
A caretaker pointed me to its location at the end of a path. And when I asked, if his family had any connection with the Glen Cinema, he told me, 'Only thing I know is, my mother would've been there, if she didn't have to get a Hogmanay message for my gran that day, first time she'd missed a matinee.'
As I walked the path I thought, 'Perhaps, he wouldn't be here today, to give me directions, if his mother didn't go for that message.'
- - -
CHEERING AND STOMPING
WEE BETTY CAIRNS - Aged 8 years
After the fire that wasn't a fire
look where we are now.
You ...
resting below your headstone
beside sisters and brothers under a sky of Paisley Grey.
Your legend tells me
'In LOVING memory'
The word, LOVING, chipped away by the years
from the granite white as if a sore unable to heal.
Me ...
visiting on this 90th. anniversary.
Where are you today? is what I'm wondering.
No more clattering along school floorboards
on your last day with your shiny clogs.
No more matinees funded by empty jelly jars.
No more, your mammies, cleaning
the house from top to bottom
making things spic and span
making ready to open doors
and windows to usher out the old,
to welcome in the new,
with black bun, a lump of coal and a wee dram to keep out the chill.
A hug, a smile and the cosy warmth of a flickering fire.
- - -
I do wonder though,
if you even noticed the smoke
snaking its way into the picture-hall?
Did your little fists
pound in despair at the gate that couldn't open?
- - -
After the last bell chimed and the last horn hooted.
Paisley stood still.
The streets as empty as a broken Buddie's heart.
- - -
All living comes to an end, Betty.
And what's done is ...
Wherever you are?
I hope you and your pals
are sitting once again on the front bench
chewing toffee
shouting for the goodies,
cheering and stomping your feet,
booing Dude Desperado, making your childish racket,
always.
- - -
Today, I see a fresh red rose on your grave.
Feel a few spots of icy rain.
Brian Whittingham