Musings of the Tannahill Makar: A History of Jimmy Plonk
Renfrewshire is full of great events and recently I attended the annual Scooter Rideout that takes place as part of ModStuff at The Spree and had a most stimulating day of spectacle and banter - and an excellent farmer's market pie stall to boot!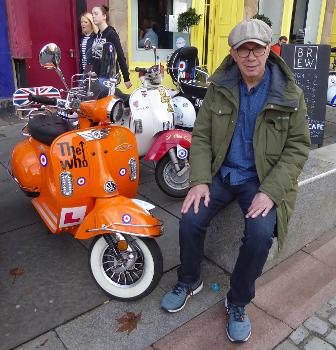 The Rideout has been taking place as part of ModStuff since 2013 and raises funds for Renfrewshire Carers Centre.
It's truly a great buzz to see hundreds of scooters of all kinds and colours lined up outside the Spiegeltent before they take to the streets of Paisley.
I was privileged to meet and interview Jimmy Plonk, and other members of Paisley Vespa Club (PVC), who told me a little about themselves and the tradition of the ModStuff Scooter Rideout.
I've since met up on a few occasions with other PVC-ers and I'm about to get an honorary PVC patch for the new Mod Parka I've since purchased.
The scooter boys and gals I found to be interesting members of Renfrewshire communities all very mannerly and generous, unlike perhaps, the stereotypes some of us may have preconceived in our minds, of young tearaways on wheels. Quite the opposite. Must be the Paisley vibe that made sure they are good citizens.
I've written the following poem to honour Jimmy, the PVC's and some other members of the club and indeed to to reflect on any of us who can return to a teenage passion in maturity and enjoy just enjoying ourselves.
A HISTORY OF JIMMY PLONK
Jimmy Plonk is from the PVCs.
... not, from The Renfrewshire Renegades
nor The Kilbirnie Mad-Dogs
and not from The Johnstone Cider Circle
... but the PVCs.
He's a respectable, old school, Ayrshire scooter-boy.
Jimmy's dream machine
was a yellow ochre vintage Lambretta GP 200
that he saved £5.00 a week for,
with his dad going halfers.
He bought it from Micky Oats in Glasgow
then took it home on the train to Prestwick
and went to school on it every single day.
A well behaved seventeen year old,
who later mentions the party
and the lawn
that his gang criss-crossed tyre tracks
destroying plants
then smashing a white picket fence
as they sped off after a gang of greasers
shifting spanners in hand.
His mind speeding back through the years
he tells me his story,
his hair no longer grey, his bike
festooned with chrome and mirrors and lamps
and his passenger, Isabel, riding pillion,
wearing a pink jacket
and an open mouthed smile with her
arms secure round his waist.
Jimmy reckons looking smart is his mod DNA.
In his 3 buttoned, notched lapel,
bum freezer jacket, with side-vents
5 inches long, and knitted woollen tie
fastened with bulls-eye tie-clip,
wearing a button down Ben Sherman
wrapped in a fishtail parka
designed to shed Korean snow and rain,
Today, ideal for the grey skies of Paisley.
The rattling purr of his memory's engine
accelerating towards his here and now
where today's Modina replica bikes
putt-putt-putt into his slipstream
and he disappears along Gilmour St.
followed by a myriad of scooters
on their annual Paisley ride-out
as if a sheriff at the head of a posse
heading towards the end
of an old-time western movie,
the sun dipping into his horizon.
Brian Whittingham
Published 28 November 2019