Celebrating Renfrewshire Fund - Funding Awards 2019
Celebrating Renfrewshire is a £150,000 fund designed by and for young people, where young people aged 12-25 have a direct say on which projects are funded in their local area.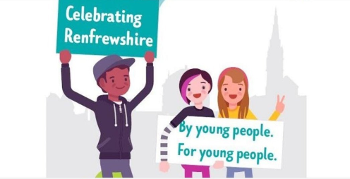 For the 2019 edition of the fund, 125 applications were submitted for funding for a variety of projects which will improve the lives of young people in Renfrewshire.
All projects had to be designed with young people aged 12-25 in mind, or by those young people themselves, to ensure that the will bring the most benefit to the younger generation.
All the applications were voted on by young people aged 12-25 using the Young Scot platform and those with the most votes took home the funding.
The full list of winning projects and their funding awards are:
Erskine, Inchinnan, Bishopton & Langbank
Erskine Music & Media Studio - £3,000
Erskine Youth Council - £2,918.90
Lamont Farm Project - £3,000
Park Mains Community Sports Hub - £3,000
St Mirren Youth Football Club - £3,000
Renfrewshire Carers Centre - £1,693.71
I Am Me Scotland - £3,000
Renfrewshire Members of the Scottish Youth Parliament - £675.39
Gleniffer
Gleniffer High School (sports leaders) - £2,900
Gleniffer High School (gymnastics) - £2,500
I Am Me Scotland - £3,000
Renfrewshire Carers Centre - £1,693.71
Renfrewshire Members of the Scottish Youth Parliament - £2,961.60
Lamont Farm Project - £3,000
Foxbar and Glenburn Outdoor Group (Club) - £3,000
Foxbar and Glenburn Outdoor group (Residential) - £805.69
Johnstone and Linwood
Johnstone High School - £1,890
Johnstone Castle Learning Centre - £3,000
Renfrewshire Members of the Scottish Youth Parliament - £2,961.60
Linstone Housing Association - £3,000
I Am Me Scotland - £3,000
Linwood High School - £3,000
Renfrewshire Carers Centre - £1,693.71
Youth Interventions Sco46578 - £3,000
Linwood, Johnstone and Gryffe Community Sport Hub - £151.69
Paisley East
St Andrew's Academy PE Department - £3,000
I Am Me Scotland - £3,000
CREATE Paisley (5 ways) - £2,964
Renfrewshire Members of the Scottish Youth Parliament - £2,961.60
Renfrewshire Carers Centre - £1,693
Sport for Change - £1,475
Loud N Proud £3,000
CREATE Paisley (cafe) - £2,934
Alba Thistle BC 2003 - £1,500
Young Enterprise Scotland - Renfrewshire Area - £1,567.40
Paisley North, West and Central
Paisley YMCA - £3,000
Loud N Proud - £3,000
Mary Russell Youth Club - £1,100
Own Yer Bike - £2,980.35
Pals of the Privies - £3,000
Cameron Dance School - £2,600
CREATE Paisley (ambassadors) - £2,000
Kibble Education and Care Centre - £2,800
CREATE Paisley (5 ways) - £652.65
Renfrew
Renfrew High Pupil Leaders - £3,000
Young Ambassadors - £3,000
Renfrewshire Carers Centre - £1,693.71
I Am Me Scotland - £3,000
Renfrew YMCA SCIO - £639.66
Renfrewshire Members of the Scottish Youth Parliament - £2,961.60
Lamont Farm Project - £3,000
Young Enterprise Scotland - Renfrewshire Area - £1,362.03
The Villages
Renfrewshire Carers Centre - £1,693
Linwood, Johnstone and Gryffe Community Sport Hub - £3,000
Johnstone Burgh Football Club - £3,000
I Am Me Scotland - £3,000
Braehead Junior Ice Hockey Club - £372
Renfrewshire Members of the Scottish Youth Parliament - £2,961.60
Lapwing Lodge Camp Staff - £2,500
Lamont Farm Project - £3,000
The Boys Brigade, Paisley & District Battalion - £1,000
Elderslie Youth Connect - £500
Young Enterprise Scotland - Renfrewshire Area - £2,500
Renfrewshire Effort to Empower Minorities - £82.40