Georgia: working in a nursery is challenging but it's a rewarding career
Georgia Knox currently works in Todholm Early Learning and Childcare Class (ELCC) on placement as part of her two-year modern apprenticeship.
It's not an easy job, but I love it. Working as part of the team, having responsibilities and being able to create and lead activities has been a fantastic learning experience for me.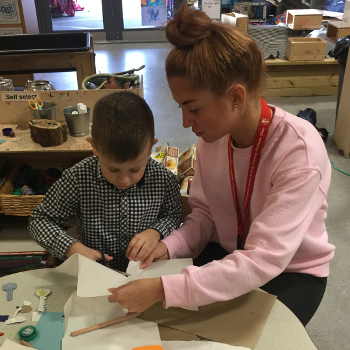 I'm currently in Todholm ELCC on my second of four placements within my two years as a modern apprentice. I was a bit apprehensive about moving onto a new place but having done so has made me feel much more confident about working in any nursery after my apprenticeship ends.
When I left school, I had thought about being a peadiatric nurse, but I didn't want to go to college or anything like that. I wanted to learn on-the-job, so a modern apprenticeship was the right choice for me.
My day-to-day activities include one-to-one activities with children, such as helping them with their lunch and leading a group activity. Even simple activities can have a massive impact on a child's development and while they are learning, I am learning too.
Knowing that I am trusted to lead on activities with the children has helped me develop my skills and, should I need it, I can ask for support from an early years practitioner. This means I can shape my day to benefit both the children I am working with and ensure I gain the skills and experiences needed for my qualification - an SVQ 3 in Social Services for Children and Young People.
The support that I've received since starting the job has been immeasurable, both from staff within the nursery and from my assessor. It helps you develop yourself and see that you are capable of so many things you didn't even know you could do.
It was easy to apply to be a modern apprentice and I can't recommend it enough. I enjoy waking up each morning and can't wait to get into work and see the wee faces of the children.