Transforming our outdoor spaces
We have plans to change the look and feel of Paisley town centre by transforming some of its key outdoor spaces over the next couple of years.
The plans are part of Renfrewshire Council's ongoing £100m investment in the town centre aimed at driving new life and footfall into the town and preserving our unique heritage, which includes major investment in our unique venues such as Paisley Museum and Paisley Town Hall.
Within that, money has been set aside to help us transform the look and feel of the town centre, which includes major improvements to our two unique landmark outdoor spaces - Abbey Close and County Square. Read on to see what's being planned....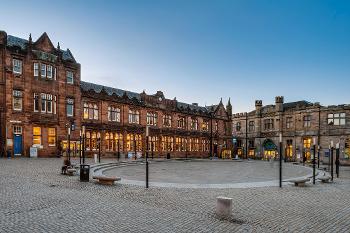 County Square:
With more than four million people passing through Paisley Gilmour Street Station (Scotland's fourth-busiest) each year, County Square is Paisley's gateway to the world. But it has the potential to be so much better. We plan to create:
- an attractive welcome to the town offering a clear sense of arrival which is distinctively Paisley and brings the town's unique character to life;
- an outdoor space where residents, visitors, workers and students will want to spend time and money, allowing for a café culture and bringing new life and trade day and night;
- a lively transport interchange sending footfall through the rest of the town centre, with better links between the station and other forms of transport;
- a redesign using high-quality materials to declutter the square and increase its event capacity;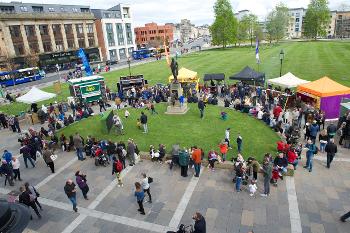 Abbey Close:
Hugging the perimeter of two of our best-loved buildings - Paisley Abbey and Town Hall - Abbey Close offers fascinating history, stunning views, and a lively gathering place for the tens of thousands of people who attend Paisley's major events each year. Here's how we can make it even better:
- create a unique place for people to gather next to Paisley's best and most distinctive landmarks, drive new footfall through the town centre;
- create a larger and more flexible event space to expand our already-successful major events (such as the Halloween Festival and the Food and Drink Festival) and attract new ones;
- improve pedestrian flow between Abbey Close and surrounding areas, reconnect the town with its riverside and open up the green space beside the river as a place for people to enjoy;
- complement the transformed town hall (due to reopen in 2022) by ensuring the spaces around it are as striking as its transformed interior;
What's happened so far...and what happens next?
We want to capture as wide a range of views on how best to deliver on these plans as possible. This is your town centre and we want you to help shape what happens to it.
In 2019 we held two public consultation events. The three question we asked were: 1) What do you like about these spaces, 2) What do you not like, and 3) What would you like to see happen there?
Progress on the project has been delayed due to the impact of the coronavirus pandemic but we hope the projects will be able to complete sometime in 2022 to coincide with the town hall reopening.
The public realm project also includes plans to revamp four of Paisley's main road junctions to improve the look of Paisley's key arrival points and make the town centre easier to reach and walk to. You can read more on the plans for the road junctions here.