Musings of the Tannahill Makar: An Introduction
I hear you ask, what is a Tannahill Makar?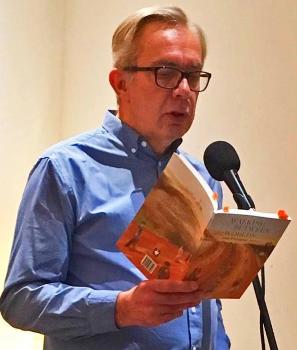 This is what most people ask me when I introduce myself. Well, generally it means an ambassador for poetry, in my case, for the catchment area of all Renfrewshire. I'll elaborate on the role in a bit but first let me introduce myself. My name is Brian Whittingham, I spent my formative years in Drumchapel in Glasgow where I lived with my parents and younger brother.
After a varied working life I transmogrified from the shipyards, latterly, to lecturing Creative Writing and Communications, in the Further Education sector at The City of Glasgow College. I also taught community classes and schools in Kelvingrove Art gallery along with other venues and organisations.
Having intended to retire in December 2018, the opportunity to embark on this new adventure presented itself so I've now been in the post of Tannahill Makar for around 6 months. Poetry is where my heart lies so this post is made to measure for me.
I feel privileged to be in a post which encompasses spreading the word of Robert Tannahill, whether it's writing commissioned poems, visiting local writer's groups or organisations, giving public readings and visiting libraries and schools sharing my own books - of which there are 9. I also get to explore the work of other writers both local and international, visit Further Education colleges and community groups, and help to create initiatives and support ideas whenever and wherever the opportunity presents itself.
Last weekend I was honoured to be the event chieftain of the British Pipe Band Championships. I wrote a poem to mark the occasion which you can read on the Paisley Is website.
I hope through my future blogs I can share my experiences so we can embark on the excitement of this magical journey together. Who knows, you may end up dipping your own toes into poetry for the very first time or reawaken a dormant passion within?
Let the journey commence!
Brian
Published 24 May 2019