Paisley town centre Q&A
The council has big plans to bring new life to Paisley town centre - but we know there's a lot of questions that always come up when the issue is discussed. Here, we try to answer them....
We know one of the most talked-about issues locally is what can be done to bring people back to Paisley town centre. Of course, generations of locals will have fond memories of the bustling High Street of days gone by and we understand people have strong opinions on the challenges the town centre now faces. But changes to the way people shop have changed town centres everywhere, forever - so the way we do things has to change too.
Renfrewshire Council has strategies in place aimed at improving all our town centres. For Paisley we have in recent years adopted an approach using culture, heritage and events to make the town a destination - as we believe the future is in using what sets us apart to give people reasons to come here. Creating new footfall will make the town a more attractive place for businesses to invest. That approach is already delivering results and we are building on that with major investment in historic venues (such as Paisley Museum and town hall) over the next few years.
But there are a number of questions and misunderstandings that often come up when Paisley town centre issues are discussed. So on this page, we'll try to answer the most common ones - to explain how we got here, what we can do about it, and why investing in Paisley's culture and heritage will make Renfrewshire's future better.
People always ask: Why not just bring the shops back?
This isn't as simple as it sounds and there are many reasons why. For a start, High Streets are in decline everywhere - the problems Paisley has faced in the last 20 years are happening across the UK, even in big cities. More and more people are shopping online - around 20% of all retail is now via the internet, compared to 5% a decade ago.
The result? Many retailers are shifting online or going out of business entirely. Almost 20,000 shops shut in the UK in 2018 and that will rise in 2019. It isn't just shops that are going online - banks, building societies and travel agents are vacating units too. And even the big retail chains still thriving are concentrating on the most viable locations, which are often in purpose-built out-of-town retail centres rather than in traditional high streets, for reasons we will look at later on.
There are still lots of good places to shop in Paisley. We still have some big-name stores which remain busy in The Piazza, Paisley Centre and elsewhere, and the town has a number of excellent niche retailers selling things you won't find anywhere else. Paisley First have a directory of shops and more on their website and residents can support the town by shopping local.
But the truth is world has changed and town centres need to offer a mix of uses - not just shops. The town has lots of great cafes, pubs and restaurants - with new ones opening all the time. Quality office and residential space will also increase the number of people in the town centre. The council wants to work with building owners to help them fill empty units with other things. And by promoting what makes us unique - our culture, heritage and events - we can drive new footfall to existing businesses and create attractive conditions in which new ones will want to open.
What is happening to fill empty units? Can we reduce rents or take them over?
The council owns very little property in Paisley town centre - nearly all the empty units are privately owned, so the council has no control over the rents or who goes in them. Contrary to what people might think, the empty units on the High Street do attract of lot of interest. The problem is old buildings like these are harder and more costly to maintain than modern ones. Many of them have been allowed to fall into disrepair by their owners and the level of investment needed before they could be reoccupied often puts potential buyers and tenants off.
The council has limited power to force owners to pay for their upkeep. There are also rules governing how much public money can be spent on private buildings, so the any suggestion the council should buy all the empty units on Paisley High St isn't an option. But we do want to work with owners to improve things and there is evidence that is happening. Between 2014 and 2018 the number of empty units in Paisley actually fell - by 4%. We have funding available to help businesses improve shopfronts and buildings - our retail improvement scheme has helped over 150 businesses and brought 40 empty units into use across Renfrewshire since 2012.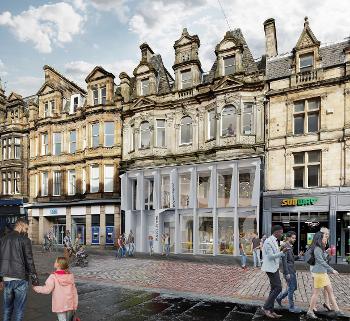 The council has helped by filling some key units on the High Street ourselves - such Paisley: The Secret Collection (the first museum store on a UK High Street), the InCube retail incubator and the Paisley.is office at 5a High St. We are also building a new learning and cultural hub at 22 High Street to house library services from 2021. Shifting the focus of the High St to offer more than just retail (and investing in heritage buildings we do own, like the museum and town hall) will create the footfall which we hope will make Paisley town centre a more attractive place for property owners to invest in.
Why not reduce rates to bring new business in?
The council collects business rates but it doesn't set them - these are set by the Scottish Government according to the rateable value of the property, and the council cannot vary that. The council can offer a reduction in rates but must meet this from its own budget - which in practice means taking money out of services.
There are a number of schemes which reduce rates for new or small business - the small business bonus scheme removes rates entirely for some, while the fresh start scheme reduces rates by 50% if someone is moving into a building which has been empty for at least a year. Read more on business rate reductions here.
But Paisley is disproportionately affected by the business rates set-up for two reasons. Because it was once a strong retail centre, many properties still have high rateable values, which pushes up what an owner has to pay. The other factor is that listed buildings (of which we have lots) are not liable for rates if unoccupied - but if an owner invests in the property to secure a new retailer or other user, they immediately become liable to pay.
In the meantime we are doing what we can to overcome these issues. Again, we see that as finding new ways to bring people here and in turn create more attractive conditions for owners to invest in their buildings.
Many people say pedestrianising the High Street hurt Paisley town centre
Just because the town had more shops 25 years ago doesn't mean the lack of cars was the main cause of the decline. We would suggest the rise of internet shopping and out-of-town retail will also have been factors - as they have been in all town centres.
Almost all large towns and cities have a pedestrianised area in their centre and in many cases they work well. A good example would be Buchanan Street in Glasgow and another would be York (a historic city not massively bigger than Paisley) which created one of Europe's largest pedestrianised zones and has thrived as a destination ever since. Many cities and towns are looking to remove traffic from their centres, rather than add more.
Pedestrianised streets do bring benefits to Paisley, including better pedestrian safety, creating places in which people can meet and spend time, and the ability to host large and small outdoor events and markets on and around the High St all year round.
In terms of the wider road system, the downside to having a centuries-old architecturally-beautiful town centre is that drivers often have to go round it rather than through it. As part of the investment in the town over the next couple of years we will redesign the key road junctions to make the ring road less of a barrier. And while reopening the High St to traffic is not something we have plans to do at present, work is always ongoing to consider any changes we can make to the town's road system to make traffic flow better in and around the heart of the town.
Surely free parking will encourage people to come into town?
Parking is already free in Paisley town centre council-owned bays and car parks every evening and all day Sundays, with free parking on-street on Saturdays. Most large town centres don't offer free parking all day on weekdays. If this happened in Paisley, it might see people who work here or commute to Glasgow simply park for free all day - which could make it harder for shoppers to park, not easier.
Paisley town centre does have a lot of parking spaces (more than 2,100, of which around 1,200 are council-controlled). But a town centre built over centuries can't offer the same ease of parking as modern facilities like Braehead or Silverburn which were built around the car.
The issues around parking in Paisley town centre are complex ones but a new working group - featuring businesses, private car parking operators, Paisley First and the two shopping centres, along with council representatives - has been formed to look at how to improve things. They have recommended a pilot scheme to test the impact of time-limited free parking in selected town centre car parks on weekdays and Saturdays, which is runningfor six months from July 2019. This will allow us to measure whether there is a positive impact on local trade. You can read more about what has changed in this detailed Q&A.
Why let out of town development be built...why not make the stores build in town centres?
In practice this is not how it works. In recent decades, many retailers have moved to out-of-town sites. Purpose-built developments like Braehead and Silverburn offer plenty parking, easy access for delivery vehicles, and large modern units needing minimal investment. Supermarkets want to build or move into large single-floor buildings with plenty space for parking and easy access to the road network so their customers can fill the car boot with their 'big shop'. These aren't always easy things to offer in traditional town centres.
So when an application is made for an out-of-town retail development, planners have a lot to consider - they have to balance how best to support traditional town centres against the level of jobs and investment on offer. For example, Braehead makes a massive contribution to Renfrewshire's economy - it brought once-derelict land into use, employs thousands of local residents, and generates huge income for the area, supporting local services. On a smaller scale, the same will be true of the new development at Wallneuk.
Ultimately if planners refused a suitable application and pushed retailers towards a town centre site that doesn't suit their needs, the area would lose out on jobs and investment. The world has changed in terms of what retailers and shoppers want. That's why we believe the future for Paisley town centre is to offer a mix of uses and sell what makes it unique to bring people here.
Can we become an outlet village?
This arrangement has worked well for some retailers in the town and the council several years ago looked into the idea of attracting more outlet stores to the High St. It didn't really take off for the same reasons discussed above - many big-name retailers are going online or reducing their number of stores, and those who are expanding are concentrating their stores in out-of-town sites.
So what is happening to change things?
The council and its partners have for several years been working to use culture and heritage to transform the area's future. That approach already delivered results. The town's UK City of Culture 2021 bid transformed our profile and reputation. Our major town centre events programme (including big days like The Spree and Halloween festival) has grown to around 160,000 attendees per year. Renfrewshire as a whole saw day visitor numbers rise to 5.3m from 2015-17.
Local businesses are also giving people good reasons to visit the town - Paisley First have had some great schemes like WinterFest and the lion and sculpture trails. And businesses are investing here - in recent years we've seen lots of cafes, pubs and restaurants open, while new town centre flats are bringing residents back to the heart of the town.
Over the next few years we will build on all of that. A total of £100m is being invested in the town centre which will attract new life and footfall, preserve your precious heritage, and create conditions in which businesses will want to invest. That includes the following:
- the transformation of Paisley Museum into an international-class destination with visitor numbers expected to nearly quadruple to 125,000 a year;
- work to turn Paisley Town Hall into a landmark performance venue capable of hosting bigger and better events, and redesign Abbey Close and County Square to expand their event capacity and create attractive spaces for people to spend time and where a café culture can thrive;
- bringing a previously-vacant High Street unit back into use a new learning and cultural hub. Alongside the already-opened Paisley: The Secret Collection museum store these 21st-century cultural facilities will bring new life to the heart of the town;
- ongoing work to grow our already-successful events programme, sell Paisley and Renfrewshire as a visitor destination, build capacity among our cultural groups, grow the creative economy and reconnect Paisley to the pattern which carries its name - all of which will create the activity and footfall.
And ultimately the people who live here have the power to help change things for the better - whether that's by shopping local....or just talking the town up instead of down. You can see more about what's going on in the area and what makes us special on the PaisleyIs website.