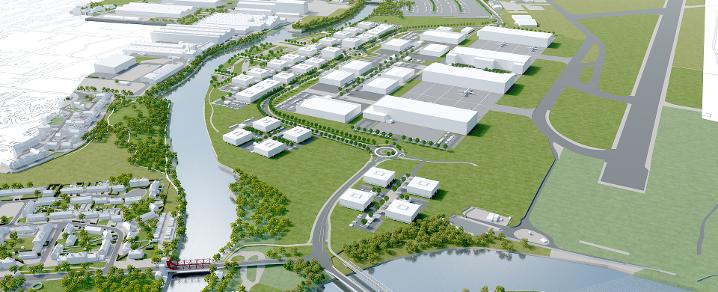 GAIA construction contract approved
The design and construction contract for the Glasgow Airport Investment Area project has been approved for awarding to Wills Bros Civil Engineering Limited.
Councillors on the Finance, Resources and Customer Services Policy Board approved the £21million construction contract to the Motherwell-based company.
The Glasgow Airport Investment Area project is jointly funded by the UK and Scottish Governments through the £1.13billion Glasgow City Region City Deal and will see new roads, bridges, cycleways and footpaths being built to connect into a site at the centre of the emerging Advanced Manufacturing Innovation District Scotland (AMIDS).
Final procurement procedures are now being completed, with work set to start this summer and be completed in 2020 on the enabling infrastructure and environmental enhancements underpinning AMIDS - a major innovation district being developed in Renfrewshire.
Abbotsinch Road will be upgraded and realigned, and a new bridge spanning the White Cart from Wright Street to an approach road off Arran Avenue, offering access for cyclists, pedestrians and Wright Street businesses. There's also a new cycle and pedestrian bridge crossing the Black Cart and an off-road cycle link between Abbotsinch Road and the A8 Greenock Road.
This will improve connections into a 52-hectare site next to Glasgow Airport, which is already confirmed as the location for the National Manufacturing Institute Scotland (NMIS) and the Medicines Manufacturing Innovation Centre (MMIC).
The construction work will ensure the site is ready to welcome its new tenants and provide the perfect investment opportunity, focusing on innovation, research and advanced manufacturing.
Planning Permission in Principle
Future development at the innovation district also took a major step forward with the granting of planning permission in principle.
Renfrewshire Council's Communities, Housing & Planning Policy Board approved an application for planning permission in principle (Ref: 18/0482/PP) on 26 March 2019.
The planning permission in principle addresses common planning, environmental and statutory requirements for the land and establishes the appropriateness of the proposed uses: a business park with a focus on advanced manufacturing and research & development.
This helps streamline the planning process for future developers, making the site more attractive for investment.
The site has already attracted it's first tenants in the form of two new national innovation centres; the National Manufacturing Institute Scotland (NMIS) and the Medicines Manufacturing Innovation Centre (MMIC) which will be the catalyst for the development of Scotland's advanced manufacturing and life sciences sectors, providing support for businesses of all sizes and connecting all of Scotland's engineering universities and colleges.
Further information on investment opportunities can be found at www.paisley.is/amids.
---
Keep Me Posted
Click here to subscribe to our 'City Deal' mailing list so that we can let you know when we have updates on Renfrewshire's City Deal projects or to tell you about details of our public engagement events.