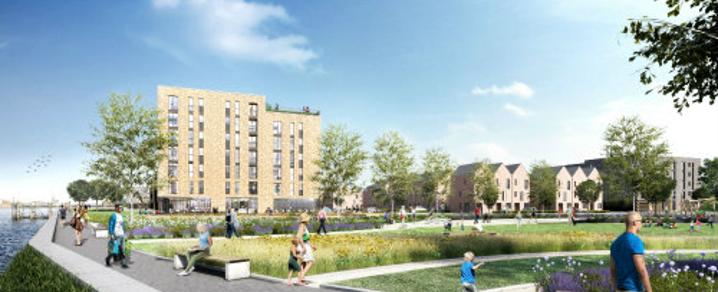 More about the Clyde Waterfront project
Scottish Government ministers approved the planning application for the Clyde Waterfront and Renfrew Riverside project on 16 November 2018. This includes the first opening road bridge over the River Clyde. Here's everything you need to know about the project.
What is it?
It's a project to transform the Clyde waterfront and connect communities on both sides of the river, improving access to work, education, hospitals and leisure through improved infrastructure. The new bridge and connecting roads, cycle routes and pedestrian walkways are funded through the Glasgow City Region City Deal and will enable existing businesses to grow and attract major investment. Estimates suggest the project will create more than 2300 jobs and inject £867million into the regional economy.
Where will the bridge and new roads be?
Extensive public engagement helped guide the exact location of the River Clyde bridge, which spans three council areas, crossing from Renfrew on the south side, to the boundary between Yoker and Clydebank on the north side. There will be new bridge approach roads and the construction of a Renfrew north development road, linking Meadowside Street to Argyll Avenue and connecting with a new manufacturing district being developed next to Glasgow Airport. Cyclists and pedestrians will also benefit with pedestrian walkways and cycle lanes across the bridge and built into all new routes, from Inchinnan Road in Renfrew right through to Yoker Railway Station.
Won't this mean more congestion?
Reduced congestion and quicker journey times are additional benefits of this significant project. Detailed studies have shown an increase in traffic at the bridge, but this will be distributed effectively through the roads network in Clydebank, Yoker and Renfrew, with the development road reducing existing congestion in Renfrew town centre.
The bridge and approach roads will be designed so that traffic can't queue when it's open to let a ship pass. Signs across the roads network and online notifications will provide advance notice of times when this will be happening, giving people sufficient time to make alternative route choices.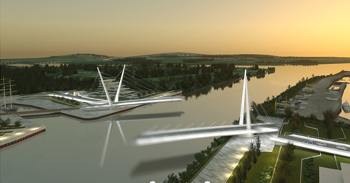 Tell me more about the bridge.
It's being developed by leading engineering consultancy Sweco, working with Kettle Collective - the architects behind the Falkirk Wheel. It will accommodate vehicles, pedestrians and cyclists, and open for passing ships.
Its design draws on the area's rich shipbuilding heritage and will use a modern cable stay system similar to the Queensferry Crossing, a twin-leaf design with each leaf opening and closing horizontally.
Most commercial ships travel on the river during high tide, which happens once during the day and once during the night. Working with the Harbour Authority, it is expected a maximum of four ships will require access each day. When this happens, the bridge will be closed to road traffic for around 40 minutes, although smaller ships will require a significantly shorter closure period. Any bridge closures will be published on advance notice signs and online, with at least three hours prior notice.
Oh, and no bridge name is set just yet, but watch this space.
Where will the jobs be?
Independent analysis commissioned by the Glasgow City Region ranks this project one of the top performing economic growth projects across the west of Scotland.
The transformed waterfront area will attract new developments, promoting residential, industrial, commercial, business, retail and leisure opportunities.
More than 470 people will be involved in the initial construction of the bridge and new roads which, combined with the business growth and new developments attracted to the waterfront, is expected to bring 2360 jobs.
The project will provide connections to an emerging district for innovation, research and advanced manufacturing - the Advanced Manufacturing Innovation District Scotland (AMIDS). AMIDS is being developed next to Glasgow Airport and will have a focus on highly skilled jobs in advanced manufacturing, with two national innovation centres already confirmed at this location.
What about the local environment?
All the infrastructure is complemented by high quality landscaping and there will be improved access to local greenspaces, creating a more vibrant and sustainable place to live and work.
When will it happen?
Our City Deal team are working closely with neighbouring councils and a range of stakeholders on the project and construction is expected to start in early 2020 and be completed in 2022.
Further information on the project can be fund at www.renfrewshire.gov.uk/cwrr.
---
Keep Me Posted
Click here to subscribe to our 'City Deal' mailing list so that we can let you know when we have updates on Renfrewshire's City Deal projects or to tell you about details of our public engagement events.