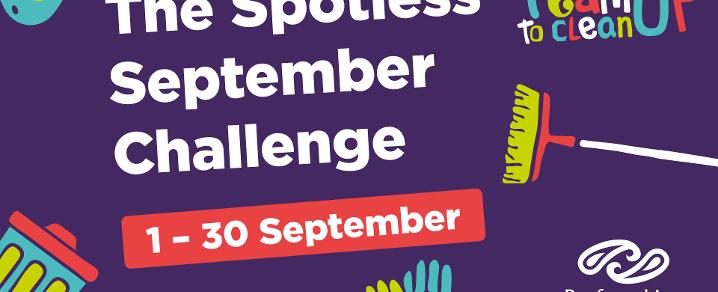 Spotless September 2021
Spotless September is back!
Spotless September has come to an end - and what a month it was!
More than 430 litter picks - that's at least 14 every day
Over 2,500 bags of litter collected
Almost 1,500 volunteers
As a Council we provided sanitised equipment, advice and our StreetScene team collected every bag after each litter pick.
We also visited 16 primary schools to teach them about the campaign and how they can help protect the environment, including our wildlife.
All on top of our £2.5million investment in enhanced road sweeping, gully cleaning, fly tipping removal and litter picking.
#TeamUptoCleanUp continues to grow and we're committed to working with the community to make where we live a cleaner, more attractive place to live, work and visit.
How can you take part in Team Up to Clean Up?
We can support you to take part in a litter pick with sanitised equipment, including litter pickers, bibs and bags, and we'll collect all the rubbish from you afterwards too - all you need to do is pick a time, a place and get out there!
If you take part, please take before and after pictures, count up the number of bags you collected and let us know.
The highest priority though is your safety, so please follow the latest public health guidance at all times and read the guidance from Keep Scotland Beautiful attached to this page.
If you feel unwell, or have symptoms of Coronavirus, please do not take part in a litter pick, self-isolate immediately and book a test.
There's an online community of more than 3,200 like-minded volunteers on Facebook so why not join us there and show off what you're getting up to - Team Up to Clean Up.
If you're able to take part and want some support, you can call us on 0300 300 1375 or email the Wardens.
Let's #TeamUptoCleanUp together!