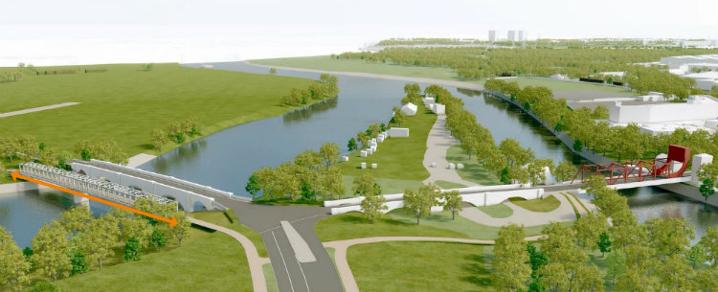 ​​​​​​​Green light for cycle bridge into investment area
A new bridge over the Black Cart will connect cyclists and pedestrians to the Glasgow Airport Investment Area development in Renfrewshire.
Councillors on the Communities, Housing and Planning board have given the green light to construction of the purpose-built pedestrian bridge and cycleway at the south end of Greenock Road.
It will provide a safe route for cyclists and pedestrians to cross the busy junction with Inchinnan Road and enable access to a new development site which has already secured significant investment.
The crossing forms part of the £39.1million Glasgow Airport Investment Area project. Planning consent was previously granted for other elements of the GAIA works, including the construction of a new high quality boulevard into the investment area through re-alignment of Abbotsinch Road as well as a new two-lane link bridge over the White Cart linking communities and development sites on the east of the White Cart to the investment area.
These infrastructure improvements underpin a 150-acre development site next to Glasgow Airport and enhance connections to the nearby Westway, Inchinnan and Airport business parks.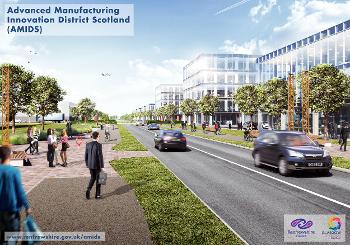 Two national innovation centres have already been confirmed at the new site, the £65million National Manufacturing Institute for Scotland and the £56million Medicines Manufacturing Innovation Centre, which will be at the heart of an emerging manufacturing district.
It is anticipated the district will create thousands of new permanent jobs in addition to the hundreds of jobs required during the construction of the enabling works including roads, bridges and cycle routes, which is expected to be completed by 2020.
Renfrewshire Council Leader Iain Nicolson said: "Renfrewshire is open for business and this investment in the roads, bridges and active travel around Glasgow Airport will further enhance our potential to attract public and private sector investment.
"For many years now Renfrewshire has played a vital role in Scotland's manufacturing sector and this is set to grow exponentially as these national innovation centres attract others to base themselves at this fantastic new facility, connected by air, sea and land.
"Not only will this project enable the continued growth and expansion of the airport and surrounding businesses, but it will also help to make Renfrewshire a more attractive, vibrant and sustainable place to live and work. Communities and businesses will be better connected, resulting in more employment opportunities for residents in Renfrewshire and the wider City Region."
Public feedback signalled strong support for the Glasgow Airport Investment Area, with 94 per cent backing the plans during extensive engagement over the last two years.
---
Keep Me Posted
Click here to subscribe to our 'City Deal' mailing list so that we can let you know when we have updates on Renfrewshire's City Deal projects or to tell you about details of our public engagement events.