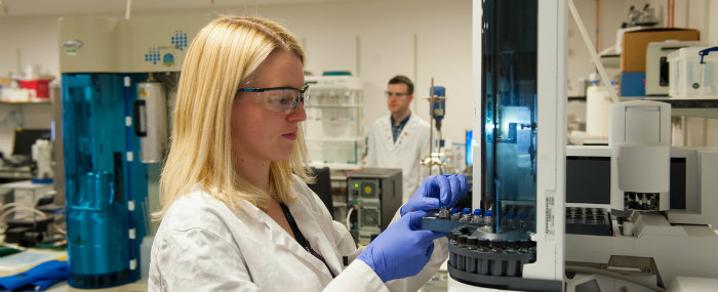 World-first £56million medicine manufacturing centre to be located at AMIDS in Renfrewshire
Council Leader Iain Nicolson has hailed the huge benefits for the local area after Renfrewshire has been confirmed as the location for a world-first multi-million innovation centre revolutionising medicine manufacturing.
It has been announced (Friday 15 June) that the £56million Medicines Manufacturing Innovation Centre (MMIC) will be built next to Glasgow Airport at the heart of the emerging Advanced Manufacturing Innovation District Scotland (AMIDS).
The industry-led centre will offer pharmaceutical companies from start-ups to multinationals a unique service to develop new manufacturing techniques which speed up bringing new drugs to market.
The global market is worth £98 billion and this investment will put Scotland and the UK at the forefront of technology and innovation in medicine manufacturing, aiming to attract £80million of research and development investment in the next ten years.
Eighty high skilled jobs will be established at the Centre by 2023 with a further 90 jobs created or retained in companies during the design and build phase and post-construction.
"This is fantastic news not only for Renfrewshire but for the whole of Scotland," said Councillor Nicolson. "On top of the highly skilled jobs the centre will bring, its work will generate more jobs by encouraging start-ups and supporting companies large and small to grow their businesses using the transformative technologies the centre develops.
"We support the ambition to make Scotland the location of choice for the life sciences community and advanced manufacturing and are currently developing the underpinning infrastructure which will ensure the centre has the perfect home in Renfrewshire."
The new centre will be built alongside the National Manufacturing Institute for Scotland (NMIS) - a £65million industry-led centre set to transform Scotland's manufacturing skills and productivity.
And it will also be located next to the recently opened Lightweight Manufacturing Centre at Westway Business Park, Scotland's only facility for research and development of lightweight components for the automotive and aerospace industries.
Councillor Nicolson added: "We have a proud tradition of innovation in manufacturing and these exciting developments can make Renfrewshire the beating heart of Scotland's manufacturing sector once again.
"Manufacturing is a key contributor to the Renfrewshire economy and employs more than 9,000 people, with world famous companies based here.
"The innovation district has the potential to attract more businesses to the area, create thousands more jobs and provide more opportunities for existing businesses to thrive."