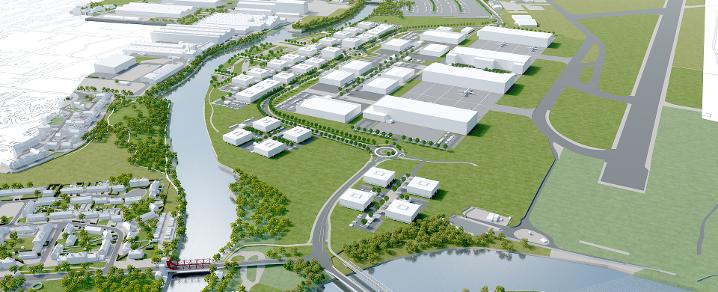 Public Exhibition - Advanced Manufacturing Business Park
Update March 2019
The planning permission in principle application (18/0482/PP) detailed below was approved by Renfrewshire Council's Communities, Housing & Planning Policy Board on 26 March 2019.
Have your say!
Renfrewshire Council's City Deal Team have submitted an application for planning permission in principle (PPIP) for a new business park development at land next to Glasgow Airport, to the east of Abbotsinch Road, Netherton Farm, Renfrew, Renfrewshire, PA4 9PA.
The purpose of this planning permission in principle application is to establish the appropriateness of the proposed uses (i.e. Business Park with focus on advanced manufacturing and research & development. Other uses may include aviation, life sciences, office and other ancillary amenities and services).
Planning permission in principle addresses common planning, environmental and statutory requirements for the land, streamlining the process for potential developers, who would still be required to submit detailed planning applications for any proposed developments.
A public exhibition was held on Wednesday 2 May to get stakeholders views before an application for planning permission in principle is submitted later this summer.
You can view the application and associated documents (including information on the location, size and scale of the proposed development) at the Renfrewshire Council's planning portal (click here to go to the planning application on the planning portal or search the planning portal using reference 18/0482/PP).
Feedback
If you missed the event, you can still view the information displayed from the related documents section of this page.
And you can provide feedback on the proposals until Wednesday 16 May 2018 through this short feedback survey www.surveymonkey.co.uk/r/amids or by email to citydeal@renfrewshire.gov.uk.
Alternatively, you can also provide feedback by writing to: City Deal Team, Renfrewshire House, Cotton Street, Paisley, PA1 1JD.
The feedback gathered was used to inform the PPIP application. They were not representations to the planning authority - the opportunity to make representations on the PPIP application to the planning authority was after the PPIP application was submitted in June 2018. The outcome of the PPiP is expected in early 2019.
AMIDS - The Vision
The proposed business park will be at the centre of the new Advanced Manufacturing Innovation District Scotland (AMIDS) - the only one of its kind in Scotland. AMIDS will be an internationally recognised centre for innovation, research and advanced manufacturing that supports and reinvigorates Scotland's manufacturing capabilities across all manufacturing sectors whilst creating thousands of new jobs.
The National Manufacturing Institute for Scotland (NMIS) will be the anchor tenant of AMIDS. This industry-led centre of manufacturing expertise will bring research, industry and the public sector together to transform skills, productivity and innovation, attracting further investment.
To help deliver this vision, the enabling roads, bridges and cycleways will be delivered by the Glasgow Airport Investment Area City Deal project. Planning consent is in place for the enabling works, with work expected to start on this in summer 2019. Visit the GAIA project page for more details.
---
Keep Me Posted
Click here to subscribe to our 'City Deal' mailing list so that we can let you know when we have updates on Renfrewshire's City Deal projects or to tell you about details of our public engagement events.