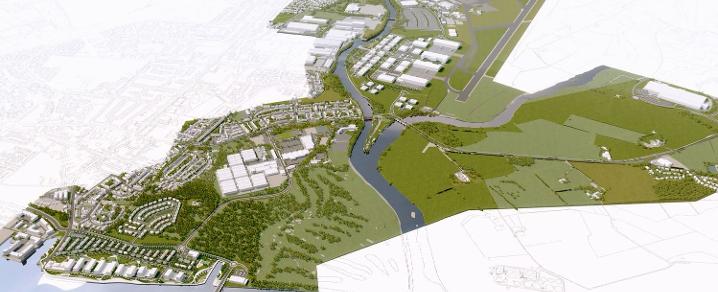 Update on planning applications for Renfrewshire City Deal
Glasgow Airport Investment Area Planning Applications
The GAIA project was progressed under two separate planning applications. One application (Ref: 17/0485/PP) comprised the main elements of the project including the Abbotsinch Road Realignment, the Wright St. Link & the Abbotsinch Cycleway with the other planning application (Ref: 18/0483/PP) comprising a new cycle bridge over the Black Cart.
Renfrewshire Council's Communities, Housing & Planning Policy Board granted planning consent on 7th November 2017 for the planning application (Ref: 17/0485/PP) for the main GAIA works. This consent permits the construction of a new high quality boulevard into the investment area through re-alignment of Abbotsinch Road as well as a new two-lane link bridge over the White Cart linking communities and development sites on the east of the river to the investment area.
The other planning application for the GAIA project (18/0483/PP) comprising a new cycling and pedestrian bridge over the Black Cart was also approved in August 2018.
---
Clyde Waterfront & Renfrew Riverside Planning Applications
Scottish Government ministers granted planning consent on Friday 16 November 2018 for the Clyde Waterfront and Renfrew Riverside (CWRR) project. Scottish Government ministers determined the planning application for the CWRR project following a request made by Renfrewshire Council in agreement with Glasgow and West Dunbartonshire. This is a unique infrastructure project across three local authorities which has the potential for significant economic regeneration, with increased potential for jobs and improved connections to new job and other opportunities for local communities. As such this method of determination was the most effective approach.
The decision notices can be viewed together with all the documentation, including letters of representation, originally submitted to the three planning authorities and to the Reporter appointed by Scottish Ministers. These can be viewed on the Scottish Government's planning portal;
---
Stay posted
Subscribe to our City Deal mailing list so that we can let you know when we have updates on Renfrewshire's City Deal projects or to tell you about details of our public engagement events.