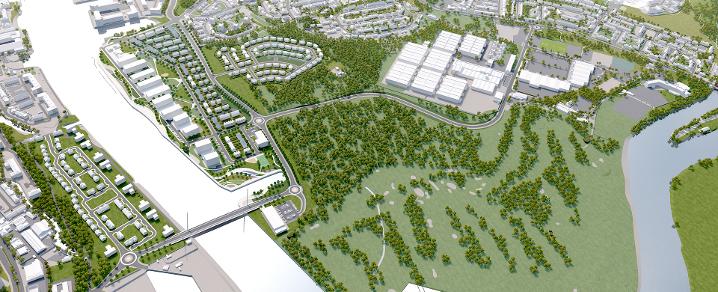 Clyde Waterfront and Renfrew Riverside planning application update
Who determines the application for the Clyde Waterfront and Renfrew Riverside project, subscribe to the City Deal email newsletter.
The Scottish Government have confirmed that Scottish Ministers will now determine the planning application for the Clyde Waterfront and Renfrew Riverside project following a request made by Renfrewshire Council in agreement with Glasgow and West Dunbartonshire.
The reason cited by Scottish Ministers for calling in the applications is that the 'Clyde Waterfront and Renfrew Riverside Project is a core component of the Glasgow City Region Deal and that Scottish Ministers have made this direction 'in view of the proposals significance for the City Region Deal, which is highlighted in (the National Planning Framework) NPF3 as important in terms of employment and economic development'.
This is a unique infrastructure project across three local authorities which has the potential for significant economic regeneration, with increased potential for jobs and improved connections to jobs and other opportunities for local communities. As such this method of determination is the most effective approach.
All documentation, including letters of representation, originally submitted to the three planning authorities will be provided to the Reporter appointed by Scottish Ministers.
The Reporter will outline the timetable for the process to determine the planning applications. Updates on this will be made available when known.
Planning applications for the GAIA project continue to be processed. A decision on the GAIA planning applications will be made by Renfrewshire Council's Communities, Housing & Planning Policy Board in due course.
---
Stay up-to-date on the Clyde Waterfront and Renfrew Riverside project
Subscribe to our City Deal mailing list so that we can let you know when we have updates on Renfrewshire's City Deal projects or to tell you about details of our public engagement events.