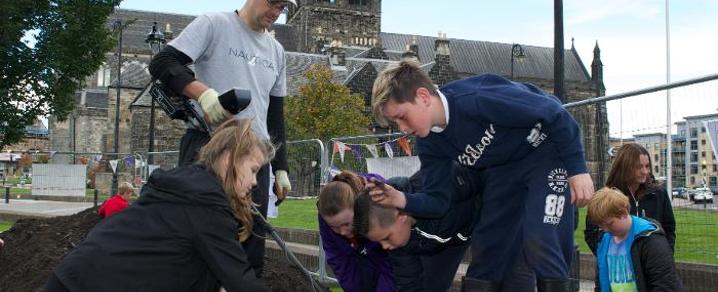 The Wee Dig 2017
The Wee Dig event engaged almost 1000 people in Paisley's built heritage through a week long archaeological dig and activity in September 2017.
The event took place in the Abbey and River Precinct quarter of Paisley town centre and focused specifically on the archaeology of the underground medieval Abbey Drain / Walkway.
The Wee Dig showcased Paisley's fascinating history and amazing built and cultural heritage. The event provided a range of fun and interesting learning opportunities and was enjoyed by visitors from under two to over 80 years old.
The project was supported by the Heritage Lottery Fund (HLF) Stories, Stones and Bones programme as part of the 2017 Year of History, Heritage and Archaeology. Guard Archaeology were appointed as the principle consultant for the event and additional support was provided by volunteers from the Renfrewshire Local History Forum, Paisley Abbey, Renfrewshire Leisure and West College Scotland.