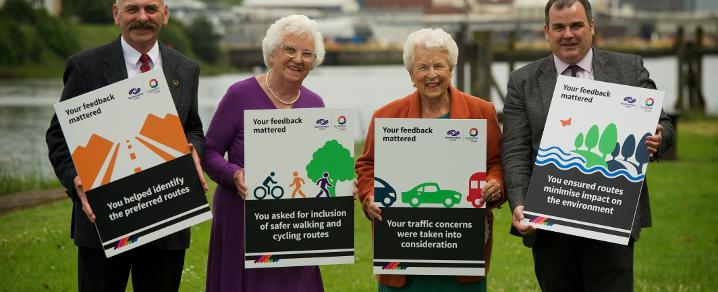 Public Exhibitions Phase 3 Feedback
Extensive engagement with more than 2000 people has demonstrated continued overwhelming public support for two major infrastructure projects to create jobs and connect communities.
Events and exhibitions over the past 12 months on the Clyde Waterfront and Renfrew Riverside and Glasgow Airport Investment Area projects have caught the public imagination.
And there remains overwhelming support for the Renfrewshire-led Glasgow City Region City Deal projects following public exhibitions in Renfrew, Paisley, Clydebank and Yoker in May 2017.
Feedback surveys show 90 per cent backing for the Clyde Waterfront and Renfrew Riverside project, recognising its potential to regenerate the riverside and better link the communities of Renfrew, Yoker and Clydebank.
The project includes a new opening bridge over the River Clyde; construction of the Renfrew North Development Road joining the bridge with Meadowside Street/Kings Inch Road and Inchinnan Road, with improved facilities for public transport, cyclists and pedestrians.
The groundswell of support also extends to the Glasgow Airport Investment Area project with 94 per cent of respondents behind the plans which will facilitate the creation of a world class commercial location connected by air, sea and land in the heart of Renfrewshire.
New bridges across the Black and White Cart, the realignment of Abbotsinch Road, better connections with the existing road network and new cycle routes are all part of the project plans which will improve connections between the Westway, Inchinnan and Airport business parks.
Renfrewshire Council Leader Iain Nicolson welcomed the news on a visit to Renfrew, saying that feedback from communities during the events and exhibitions had played a significant part in shaping the final projects.
Councillor Nicolson said: "These major projects will bring new job opportunities; better link communities and provide places to be proud of.
"Providing long lasting economic benefits to our communities is right at the heart of each of these City Deal projects which will unlock the area's economic potential, tackle unemployment and create thousands of new jobs while at the same time improve public transport and connectivity.
"At each stage of the projects, the input of local people has guided the development and I am pleased at the contribution communities in Renfrewshire, West Dunbartonshire and Glasgow have made in shaping these projects. From guiding the choice of routes to highlighting the things that matter most to their communities, they have made their voices heard."
Local consultation highlighted the most popular location for the new River Clyde bridge, which will be the first opening bridge across the Clyde, improving access for communities on both sides of the river to jobs, leisure activities, Glasgow Airport and hospitals.
The precise route of the Renfrew North Development Road was set to ensure minimal environmental impact and improve access to local woodland areas. Community calls were also answered with every new road complemented by improved cycling and walking routes.
And following feedback on traffic congestion concerns, a detailed modelling study was conducted which found peak time traffic at Renfrew Cross is likely to be significantly reduced, while new routes will lead to reduced HGV traffic on Porterfield Road and on Paisley Road.
Planning applications for each project will be submitted soon, with the Clyde Waterfront project being considered by the planning authorities in Renfrewshire, Glasgow and West Dunbartonshire and the Glasgow Airport Investment Area falling entirely within Renfrewshire's remit.
To be kept updated on the latest information on all of Renfrewshire's City Deal projects, sign up to our mailing list below.
---
Keep Me Posted
Click here to subscribe to our 'City Deal' mailing list so that we can let you know when we have updates on Renfrewshire's City Deal projects or to tell you about details of our public engagement events.