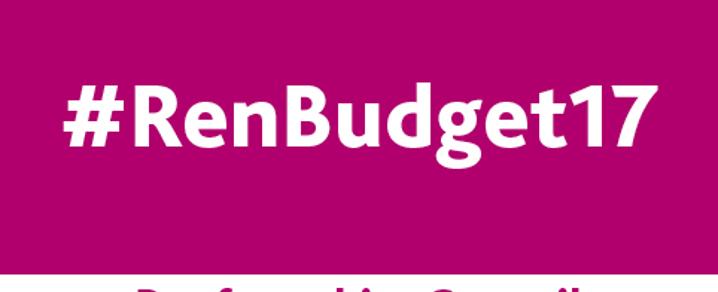 Council budget 2017 to 2018
Renfrewshire households protected from cuts as Councillors vote to freeze council taxes and rents for coming year.
Households in Renfrewshire have been protected from significant budget cuts as Councillors voted to freeze Council Tax, council rents and adult social care charges for the coming year.
Renfrewshire Council's budget for 2017-18 was set at a Council meeting yesterday (Thurs 16 Feb) and will provide a budget of £386 million for existing public services.
The budget takes account of a £16 million reduction in annual spending to address a budget shortfall which must be met in the coming year. This shortfall has been managed by savings delivered through the Council's effective debt management and its Better Council change programme which improves efficiencies across the council, meaning that the budget shortfall will not hit front line services or the pockets of people in Renfrewshire.
The Council budget also sees the following investment:
The largest single investment for maintenance of our roads network with £6.7million for key routes to keep Renfrewshire's economy moving freeing up extra resource for residential roads.
An additional £1.5million for Council initiatives to tackle poverty such as providing money and energy advice, literacy programmes, breakfast clubs, supporting families with the cost of the school day and supporting digital participation across the region.
An extra £1.5million funding will be used for a refurbishment of St Anthony's primary and a new Spateston nursery in Johnstone.
An extra £150,000 funding to remove music tuition fees for every child in Renfrewshire schools and a doubling of the Cultural Heritage and Events Fund with an extra £500,000 to benefit dozens of community arts groups across the region.
An extra £1million for investment in community facilities as well as £20,000 for each of the region's Local Area Committees to expand the grants available to their local communities.
All fees and charges, including those for adult social care and Council-owned leisure facilities, will also be frozen for the coming year, including fitness class fees and hire of football pitch facilities.
Leader of the Council, Councillor Mark Macmillan, welcomed the budget and said the measures agreed would help protect Renfrewshire residents from some of the severe cuts faced by public services.
Councillor Macmillan said:
"We are ambitious for Renfrewshire and what it can achieve and I am pleased we have been able to protect the pockets of people who live and work in the area despite the ongoing cuts and increasing pressures on our budget.
"Through our effective management of the public purse, we have listened to what matters to our communities and continued to freeze the Council Tax at current rates as well as freeze council rents, charges for adult social care and charges for our leisure facilities across the region.
"We are a region of great prosperity but also significant inequality and we want to ensure that everyone has the same opportunities through education and employment to grow a Renfrewshire that is an attractive place to visit, work and invest in.
"Our communities have a history of great talent and by tapping into that talent and investing in it through the removal of music tuition fees and through funding for our talented communities, we can open up access to opportunities that can change the lives of those who take part in such activities. Our Paisley bid for UK City of Culture 2021 is part of our ambition to tap into and develop that talent to ensure future generations of success."
Scottish Government changes to legislation mean council tax bands for properties in Bands E to H will increase from April this year. Councillors yesterday (Thurs) voted not to further increase Council tax for local residents ensuring that cost pressures caused by increased demand for adult social care and other pay and inflation pressures will be met within the budget available to the Council.
Council Leader Mark Macmillan added:
"We have been determined not to pass the cost pressures we face on to households in Renfrewshire while so many people are having to tighten their own budgets and in the worst cases, are struggling to provide the basics for their families.
"We have listened to what our communities have told us and invested in initiatives that will make a real difference to people's pockets. We want to invest in a long term future for people in the area, through jobs and education opportunities and I urge Scottish Government to end this uncertainty for local services and provide a long term financial vision for the delivery of the vital public services so many people rely on."