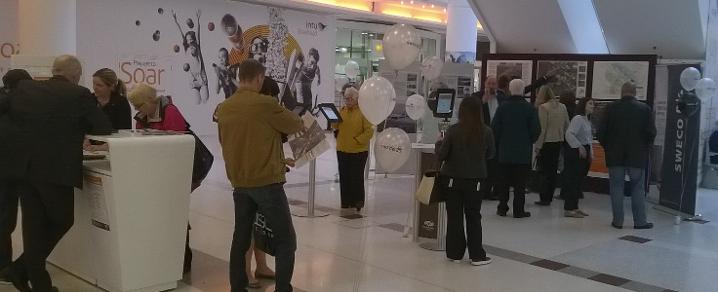 Public Exhibitions (Phase 2)
Your opportunity to input again on major infrastructure projects
Following the initial round of consultation with local communities which we undertook in May and June of this year, local people and businesses are being invited to further engagement events for two of our City Deal projects in early December 2016.
The two projects which will be the primary focus of those events are:
The Clyde Waterfront and Renfrew Riverside (CWRR): a new 'opening' bridge across the Clyde linking the communities of Renfrew, Yoker and Clydebank, and providing improved access to employment, education, health and leisure locations. Proposals also include new roads and cycle routes, aimed at opening up access to development sites and providing an alternative route around Renfrew Town Centre.
The Glasgow Airport Investment Area (GAIA): the realignment of Abbotsinch Road, a new bridge across the White Cart, and new cycle routes, all aimed at improving connections between the Westway, Inchinnan and Airport Business Parks and as an enabler for the delivery of a world class business and commercial offering centred around the airport.
People attending the events will have the opportunity to meet the project team and ask questions regarding the projects. A short survey about the proposals will also be available at the events and online* to ensure everyone can provide feedback about the projects. *(available from 05 December 2016)
The engagement events will take place as follows:
Comments gathered at these events will be considered by the project team as part of the ongoing design process.
You can also provide feedback online at the following link until 30 December 2016;
https://www.surveymonkey.co.uk/r/RenCityDeal
Supporting information and leaflets can be found in the 'related documents' section.
After refining the designs further, the projects will be exhibited publicly again to allow final input ahead of a planning application in the summer of 2017 - sign up to our mailing list below to be kept informed of these key project dates.
---
Airport Access Project
Information on Renfrewshire's third City Deal project, the Glasgow Airport Access Project (AAP); a new direct rail connection between Glasgow Central Station, Paisley Gilmour Street Station and Glasgow Airport will also be on display at these events. Due to the technical complexities and constraints involved, the AAP has a significantly longer development process, with the scheme expected to be completed and operational by 2025. Formal engagement events for the AAP will follow in due course.
For more detail on each project, see the project specific pages in the related articles section of this page.
---
Keep Me Posted
Click here to subscribe to our 'City Deal' mailing list so that we can let you know when we have updates on Renfrewshire's City Deal projects or to tell you about details of our public engagement events.