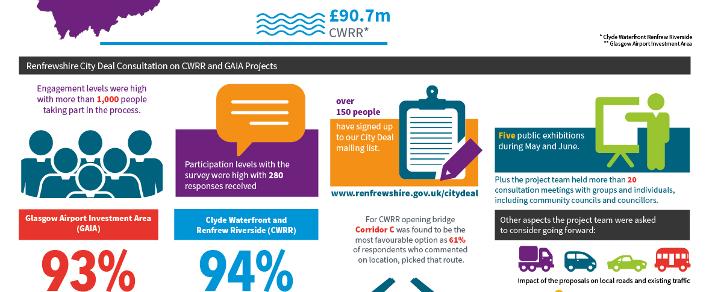 Public Exhibitions Phase 1 Feedback
Communities and businesses across Renfrewshire overwhelmingly backed initial proposals for two major infrastructure projects, to be delivered as key components of The Glasgow City region City Deal.
The Clyde Waterfront & Renfrew Riverside (CWRR) project and the Glasgow Airport Investment Area (GAIA) project are two of Renfrewshire's three projects included in the £1.13bn Glasgow City Region City Deal agreement. Renfrewshire Council conducted a comprehensive consultation programme earlier this year in communities across the region to seek opinions on the initial proposals for both projects.
The results of those surveys are now known and demonstrate overwhelming support for both projects and the benefits they will deliver in Renfrewshire and further afield.
View our infographic for a quick visual representation of the key outcomes - see related documents section of this page.
More than nine out of ten people (94%) of those who expressed an opinion on the project, believed the CWRR project will have positive outcomes for the area. A similar level of support for the GAIA project saw 93% of people state they feel the development would be beneficial for the area.
Feedback from the events suggested significant support for the inclusion of new facilities for pedestrians and cyclists, including enhanced local links and routes segregated from vehicle traffic, as well as a desire for further information as the proposals are developed.
Engagement levels with the survey were high with more than 1,000 people taking part in the process. Large numbers of people attended five public exhibitions during May and June, and the project team held more than 20 consultation meetings with groups and individuals, including community councils and councillors.
Following completion of the initial consultation process, the 'preferred options' for both projects will be developed further, with these being presented at further public engagement events later this year.
Update: These further engagement events have now been scheduled for December 2016. Click here for more details.
Sign up to our City Deal mailing list below to be notified when these events are confirmed.
---
Keep Me Posted
Click here to subscribe to our 'City Deal' mailing list so that we can let you know when we have updates on Renfrewshire's City Deal projects or to tell you about details of our public engagement events.