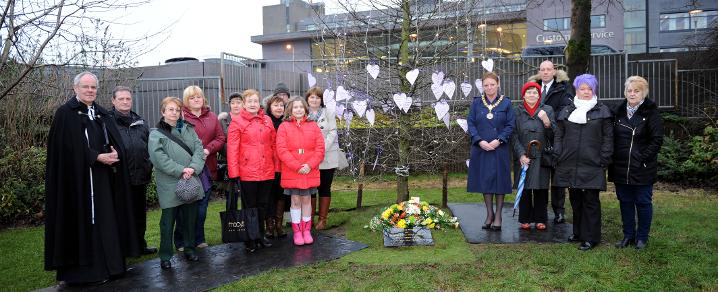 SOBS Memorial Tree
All are very welcome to attend the annual commemorative service which takes place in January every year.
The small, informal ceremony involves Renfrewshire's Provost, local ministers and representatives from the SOBS group- with an open invitation to the community.
Those attending are encouraged to put a commemorative purple heart on the tree with a message to the person they have lost to suicide.
The group hope that this will be a place where those bereaved by suicide will be able to come to remember those they have lost. We have found that people contact us to have purple hearts sent out, whilst others have made their own.
After these ceremonies people are invited to Paisley Abbey Tea Room for refreshments- giving everyone an opportunity to chat , offer some support and to provide information about other resources that are available.
The tree is located directly outside Renfrewshire House in Cotton Street, Paisley and takes its place with other memorials.
Background
With the help of Provost Celia Lawson and Councillor Lorraine Cameron the group sourced permission from Renfrewshire Council to adopt a tree and on Tuesday 19 January 2010 a tree was dedicated and lights turned on.
Co-operative Funeral Care kindly provided a small memorial stone inscribed with the words:
'In memory of those who have taken their own life. Gone too soon'
Renfrewshire Council provide and maintain lights for the tree which are switched on at the ceremony and remain lit until British Summer Time begins.
The ceremonies are very well attended. More than 40 people attended in 2010, over 100 people in 2011, with similar numbers attending each year since. People attend from the local area and further afield.
Everyone comes with their own reasons for attending and brings their own story.
The ceremonies have generated a lot of local media interest, which helps promote the group, but also helps to challenge the stigma that still surrounds suicide, as well as breaking the isolation for those bereaved by suicide.