Robert's prized evening at Mòd Phàislig 2023
Ticket winner Robert Kirkpatrick's take on Breabach's spectacular show at Paisley Town Hall.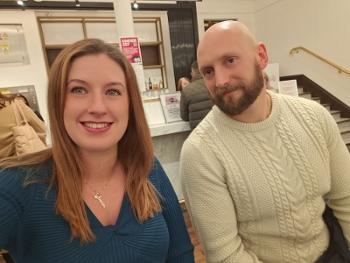 Robert (right) with his wife Jennifer (left) Robert Kirkpatrick, from our sustainable transport team, and his wife Jennifer, were among the thousands of local people who immersed themselves in the vibrant atmosphere of Scotland's premier celebration of Gaelic music and culture when The Royal National Mòd returned to Paisley earlier this month.

After taking part in our recent employee prize draw, Robert was the lucky winner of two coveted tickets to see MG ALBA Scots Trad Music Awards Folk Band of the Year, 'Breabach,' set the stage ablaze as they opened Mòd Phàislig 2023 in style at the recently refurbished Paisley Town Hall.
We caught up with Robert to get his first-hand impressions of this remarkable event. Here's what he had to say:
"It was heartening to witness the Council's dedication to promoting the Gaelic language as part of Mòd Phàislig 2023.
"Breabach's performance at the opening concert was nothing short of spectacular. They were great with the crowd and their mix of traditional and innovative Scottish music left us inspired. I'd highly recommend going to see them if you get the chance.
"I'd also add that Paisley Town Hall was the ideal location to kick off the festivities. The recent refurbishments have preserved the venue's original features while also making it more accessible for a 21st-century audience.
"We thoroughly enjoyed our evening and we can't wait to find out what other events and concerts will be coming to Paisley Town Hall in the future."
You can find out about the exciting events taking place at Paisley Town Hall and across Renfrewshire on the PaisleyIs website.
Don't forget to stay up to date with info, news and stories from colleagues across the Council and keep your eyes peeled for more chances to win in future prize draws on our Staff info and Latest staff news webpages.
Published on Friday 27 October 2023