National recognition for our colleagues tackling fly tipping
Did you see our Environmental Taskforce on the One Show this week?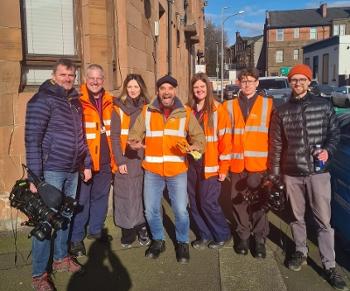 In case you missed it, they were featured for their innovative approach to tackling fly tipping which is an ongoing challenge for many councils across the UK.
Presenter Kev Duala joined Lead Officer Nicola Drummond and her team on site to see how they tackle the issue - and they even saw some CCTV footage that caught a van driver in the act.
Nicola said: "It was brilliant to have the One Show visit and see the fantastic work that our team is doing - although I'm not desperate to be on camera again anytime soon!
"Fly tipping is an issue across the UK, but here in Renfrewshire we've dedicated a team to tackle it. They go out on a daily basis to investigate public reports and visit hotspot areas, they'll check the rubbish that has been dumped for evidence and speak to potential witnesses on site or who have reported. It's then cleared away by our colleagues in StreetScene afterwards if it's on council land.
"The approach is already working well with 34 fixed penalty notices issued since the team started in December 2022. The team are also working with SEPA on some larger-scale investigations to issue larger fines once enough evidence is in place."
Mobile CCTV is used by the team to try and catch people in the act - and this was the case just days before the One Show visited.
Nicola added: "Using CCTV is a great way to monitor areas we know people fly tip and we were able to show the One Show footage of a van driving down a dead-end road with a full load and then returning shortly after with it emptied.
"Unsurprisingly, we found the waste the next day dumped at the side of the road so this was clear evidence of the driver being caught red-handed.
"We'll investigate whether we have other reports or instances of this van being used in other places to explore how we can issue the maximum penalty available".
"The only way that we'll stop fly tipping is by catching people and fining them, changing their behaviour, and making it clear to everyone that if you do this then you will be caught.
"Fly tipping brings communities down, it's terrible for our environment, and our wildlife as well as costing the council a lot of money, but I'm so proud of the work our team is doing and I'm looking forward to seeing it go from strength to strength."
You can catch up on the team's appearance on the One Show via BBC iPlayer. They were on the show on Monday 27 March 2023 and were the first story up.
Published on Thursday 30 March 2023.