John strikes gold for Scotland
John Fox crowned World Champion at international blind bowls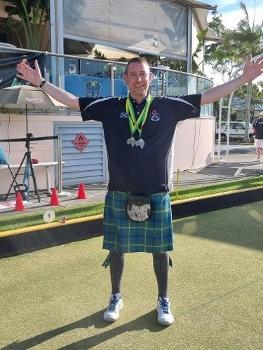 "no words to describe the feeling..." Senior facilities operative at St Anthony's Primary School, John Fox brought back a little piece of Australia's Gold Coast earlier this month when he became the World Champion at the International Blind Bowls Association (IBBA) World Championships.
Facing the best players from around the world, John won Gold and the World Championship title in the singles category, and scooped silver in the mixed pairs round with his playing partner Mary.
Although losing his vision at a young age was life-altering, it hasn't stopped John from making the most of his talents and competing in the sport he's loved since childhood.
John shared his remarkable journey with us. Here's what he said:
"I was born with Stargardt's disease, a very rare genetic condition that gradually causes the loss of central vision (opposite to tunnel vision) and was registered blind by the age of 16.
"As a kid from a family of bowlers, I've always enjoyed the sport. But when I lost my vision at a young age, that was the end of bowling for me, or so I thought...
"As an adult, when my brother told me he had heard about blind bowls, I thought he was joking. Then I learned about the Scottish Association for Blind Bowlers (SABB), got myself signed up and joined my local club - bowls was back on!
"In 2018 I won my first title at the SABB Scottish Singles Championship. Later that year I reached the quarter finals nationally with my friend and coach Alistair having won district pairs in mainstream bowling. We were the first players from Spateston ever to reach that level and I was the first visually impaired player to qualify for mainstream national finals.
"I am proud to have gone on to achieve so much including silver medals at indoor and outdoor UK Championships and now my gold medal as a world champion.
"There are no words to describe the feeling that came with that title. I'll always remember hearing the pipes blasting Flower of Scotland after receiving my medal and reflecting on how funny it was that all this came from me thinking my brother was trying to wind me up!"
What an amazing achievement. Congratulations John!
Published on Thursday 30 March 2023.