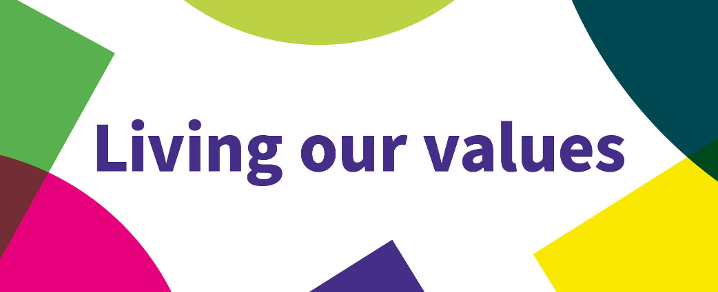 Celebrating our colleagues
Your living our values nominees
Since we launched our recognition campaign in November last year, there has been no shortage of inspiring stories and appreciation for our hardworking teams. From housing support to schools, from transport to ICT and right across the council, we've seen that being helpful, fair, great collaborators and learning are simply part of what we do.
To celebrate you, we wanted to give a shout out to everyone who's been recognised for living our values so far. We hope that receiving a living our values thank you card from a colleague made you smile and know that you're appreciated!
Let's hear it for:
Alan Connelly
Atrium café team
Brediland Primary School Flexible Learning team
Cally Moore
Charlotte Blom
Doreen Paterson
Duncan Pole
Ellen Pyra
Employability team
Fiona Sinclair
Harry Fitzsimmons
Ian Whyte
ICT team
Improving the Cancer Journey team
Isaac Wilkie
Jim O'Kane
Kenneth MacKenzie
Linwood High School Pupil Support team
Lisa Carrigan
Louise O'Connor
Marion Maxwell
Rhona Barnes
Sarah Conway
Secretarial team
Susan Allan
Suzanne Gibb
Tanya Cassidy
YouDecide team
Every nomination has a story waiting to share. Check out those we've published so far on our staff stories webpage and look forward to plenty more coming soon.
Have you noticed a colleague or team who really get what it means to be fair, helpful, collaborative and value learning? Why not thank them by completing a short online form and nominate them for living our values?
It's a great way to say thank you for making a difference and demonstrating the behaviours we all agreed were important to us when we developed our values together.
To nominate:
Simply complete this short form with some great examples of what they do.
For more information on our values and behaviours, head over to the Living Our Values webpage.
Published on Thursday 23 March 2023.