Meet Chris Dalrymple, our new Head of Facilities and Property Management
Chris was appointed to the role last month, and we thought it was time we got to know him a little better.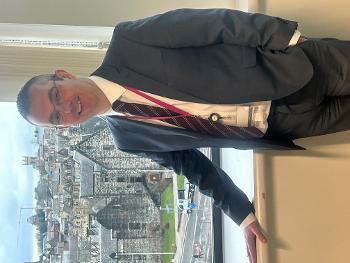 Chris, congratulations on your new post, can you tell us a bit about your career in Renfrewshire Council so far?
It's coming up for seven years now since I joined Renfrewshire Council as Communities and Regulatory Manager, having moved across from Glasgow City Council. I loved my time in that role working with staff in Environmental Health, Trading Standards and Community Safety, and most recently leading the council's response to the pandemic as the Chief Environmental Health Officers; advising and working with businesses, supporting the Test and Protect and Community Testing programmes, working with schools - the list goes on and on!

What attracted you to the Head of Facilities and Property Management position?
As I said, I was happy in my previous role, but this looked like a really challenging job that I felt I could make an impact in, especially with the fantastic team that are already in place. It will be a massive change and it will take time to get fully up to speed with some aspects of the role, but I'm excited to lead a diverse workload and portfolio. I'll also be managing almost 1,500 staff, compared to 100 in my previous role, so that brings its own challenges, but I have a great team of managers to work with so I'm confident that we can deliver the best services possible to our communities.

Tell us a bit more about your new role?
I will oversee all aspects of Facilities Management which includes the Hard FM function (compliance, repairs, planned preventative maintenance) and the Soft FM function (cleaning, caretaking, housekeeping) across Renfrewshire Council. Building Services also form part of the team and are responsible for repairs within council properties, as well as capital projects across the Council portfolio. I'll also be looking strategically at new ways of working across the Council, as well as overseeing property and large parts of asset management.
I plan to come in and ask "why" a lot. We need to continually challenge ourselves and look at best practice elsewhere to learn from others.

If we come back to you this time next year, what would you hope to have achieved?
One of the key things is to try and bring a bit of stability to the service as there has been a lot of uncertainty following re-models, Covid-19, and other large changes across the organisation. I want to review our practices and see where we can get better to allow us to continually improve and I want to ensure we are seen as a helpful, professional service that can be relied upon to do a great job, in any circumstances. I think Renfrewshire Council is a great place to work, has a really strong workforce and always strives to do the best for the communities. I look forward to working as a Head of Service to drive improvements across both E&I and the wider Council.

Can you share a memorable experience with us?
In my younger days I 'starred' opposite Robert Duval in the film, A Shot at Glory, and caused a continuity error in the film as they didn't have enough extras and I appeared twice in the same scene! My young acting skills were so good though that you'd never notice, but unfortunately the offers dried up afterwards. Elsewhere, I did play a few games for Dumbarton in the old Third Division which was a great experience, and I was also Gazza's (Paul Gascoigne) waiter one Christmas Day when I worked in a hotel as one of my first jobs. It was a busy night believe me, but he was an absolute gent and fabulous to serve.
Thank you!
Published on Tuesday 21 February 2023