Housing investment team recognised for commitment to Net Zero
Congratulations to our housing investment team on their recent awards success.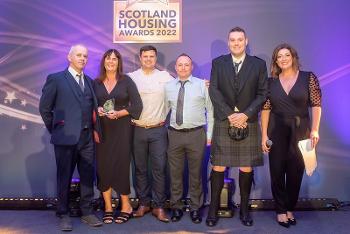 The team were presented with the 'Net Zero in Housing' award at the Chartered Institute of Housing (CIH) Housing Awards, in recognition of the outstanding work completed as part of the retrofit project and works at Blackstoun Oval in Ferguslie.
The prestigious Chartered Institute of Housing (CIH) Housing Awards, recognise and celebrate the creativity, passion, and innovation of housing organisations across Scotland.
The housing sector, like many others, is faced with the challenge of cutting carbon emissions to achieve the Scottish Governments' net-zero targets by 2032. The 'Net Zero in Housing' award celebrates organisations that can demonstrate they have overcome some of the significant challenges in cutting carbon emissions.
Louise Feely, Housing Asset and Investment Manager, pictured collecting the award with Aaron Marshall, Brian Thorburn and David Stevenson from her team, said: "My team all work really hard to deliver high quality improvements to our council houses and they lead the field in terms of innovative approaches to improve energy efficiency and reduce fuel bills for our tenants.
"I'm absolutely delighted that their efforts have been recognised at a national level, and I want to thank everyone involved in the Blackstoun Oval retrofit project for their hard work."
Published on Tuesday 28 November 2022