Living our values - Jock Templeton
Nominated for his inspiring work in mental health and wellbeing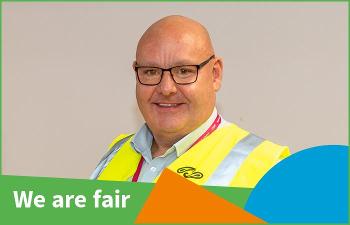 Our waste operations manager, Jock Templeton, is passionate about mental health. As a dedicated mental health first aider, he works hard to end the stigma that can stop colleagues asking for help when they need it.
His tireless hard work and commitment hasn't gone unnoticed, and he's been recognised as a shining example of how to live our values by his manager Lyall Rennie.
Operations manager, Lyall said, "Jock is a great advocate for mental health and wellbeing. His work is exceptional, and I feel inspired by his enthusiasm and approach to this subject which can be a very hard thing for people to tackle."
Lyall believes Jock's work is an excellent example of 'we are fair - treating each other and everyone we deal with respectfully while working hard to build trust in our organisation'.

Lyall added, "Jock has been doing counselling across various departments including roads, waste, Street Scene and fleet. He gets great feedback with people saying he is never judgemental and always listens. He puts people at ease by reassuring them that anything they talk about won't be discussed with anyone else. He also follows up and checks in, giving his support until the person feels better.
"Jock does these things out on his own initiative because he truly cares and values the mental health of our staff. He's led on lots of activity by himself, not needing a steer from anyone else. I'd like to thank him for everything he does."
Read more about Jock's work supporting colleagues and their mental health.
"People have all sorts of different triggers, and the key is being able to spot the signs."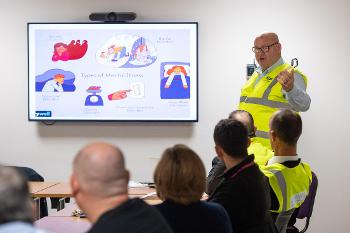 Mental Health Awareness Day Workshop We asked Jock about the work he does and how it feels to be recognised for living our values.
He said, "I'm really happy to be recognised this way, it means a lot. Normally the recognition comes from the people I help, who always thank me and tell me about the difference I've made to them. That's the real reward and the reason I do this. But to get official recognition is wonderful and I hope that through it, more people will be inspired and if one person comes forward and seeks help, it's a huge win. That's what it's all about. The values we have as a council lend themselves to that and to be fair and helpful, I feel are part of me and I hope I can always be consistent in that.

"I've also been asked by people in other departments to run workshops for their teams which must mean people are finding them helpful. The more awareness and learning we can spread the better. People have all sorts of different triggers, and the key is being able to spot the signs.
"My world changed when I found my brother-in-law after he took his own life 13 years ago. It was traumatic and I needed a lot of help, but there has been a real positive to come out of it. I've now got a much better outlook on life. I live every day in the moment and don't waste time looking back at things I can't change. Every time I help someone, I'm reminded that my brother-in-law didn't lose his life in vain. It wasn't all for nothing.
"It's heart-breaking to look at the statistics and realise just how many people lose their lives as a result of mental health issues. Since 1974, around 40,000 people in Scotland have died to suicide - over 29,000 men and 10,000 women. If you can picture a full Chelsea Football Club stadium, that's how much life we've lost. I hope over the next 50 years, we can paint a very different picture.
"At work I can see there has been a shift where more people are coming forward and addressing mental health. It's meant that we've been able to spot when someone needs support and give them the help they need. I'll continue to do my best to help people and make a difference for as long as I can".
We want to thank Jock for doing what he does and putting our values into action every day. We'd also like to thank Lyall for nominating Jock for this well-deserved recognition.
Nominate a colleague for living our values
Have you noticed a colleague or team who really get what it means to be fair, helpful, collaborative and value learning? Why not let them know they're doing a great job by nominating them for living our values?
It's a great way to say thank you for making a difference and demonstrating the behaviours we all agreed were important to us when we developed our values together.
To nominate:
Simply complete this short form with some great examples of what they do.
For more information on our values and behaviours, head over to the Living Our Values webpage.
Published on Friday 04 November 2022