Our economic development team gain national recognition
The DWP award recognises the team's contribution to the recent Kickstart programme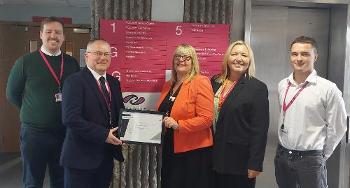 The Department of Work and Pensions (DWP) has recognised our economic development team for their role in delivering "excellent work placements and job outcomes" as part of the recent Kickstart programme.
The national DWP programme was used to aid economic recovery and support young people, aged 16-24, into employment post-pandemic.
In collaboration with the Chamber of Commerce and Engage Renfrewshire, the team arranged job placement opportunities for local young people with business, social enterprises and charities including 70 paid placements here at the Council across a range of service areas. As a result, 43 of the council trainees have moved onto sustainable employment and a further six have progressed to a college or university course.
Twenty-four of those now in employment went on to find roles here at the council. We spoke to three of them, Owen Smith, Daniela Crawford and Harry Moore, to find out what they had to say about their experiences as Kickstart trainees. Read what they had to say here.
Maureen Toal, the service leader at DWP highlights our leadership role in the Kickstart programme. She said "Renfrewshire Council not only led as a Kickstart gateway in Renfrewshire, supporting over 600 opportunities for young people, but also led as a Kickstart employer providing six month paid placements across departments, with some extended for an additional six months. They have mentored their young people throughout the programme, opening up opportunities for permanent employment, including through their apprenticeship programme".
Michael Moran, our assistant economic development manager added, "The Council was delighted to support the Kickstart programme and offer a range of paid work experience placements.
"The success of the programme is due both to the commitment and enthusiasm of the trainees and the help and dedication of the council colleagues and managers, who supported and developed them. I'd like recognise that and thank colleagues for their fantastic contribution to a great programme."
Well done everyone!
Published on Wednesday 12 October 2022