Jock speaks about the mental health support available at the council
Supporting colleagues to open up on Mental Health Awareness Day 2022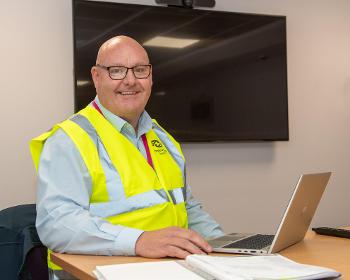 Jock Templeton Waste operations manager, Jock Templeton, is one of our mental health first aiders and, as part of World Mental Health Day 2022, hosted workshops for fellow colleagues to raise awareness of mental health.
The workshops provided a safe space for people to learn about the signs of a mental health crisis, identify trigger points for themselves or others, and outline coping mechanisms for people to help avoid or deal with mental health issues when they occur.
"All of the skills in the workshop are transferable into your private life as well as work, so people can help themselves but also their children, friends, family and colleagues.
"Everyone is dealing with things in their lives so it's important that they realise that their issues are not too small to speak about, as they can build up until they become something more.
"I want to provide people with the awareness to spot people who need help and know how they can help them; it really is so important.
"Being a mental health first aider has had a massive impact on my life and I'm proud to have helped more than 100 people inside and outside of work, and I want to pass on these skills to colleagues who need support."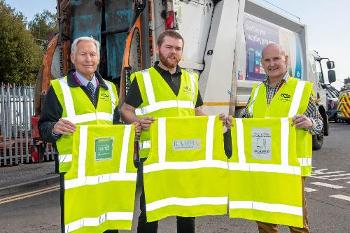 Laurence, Kyle and Millar In addition to the workshops, Jock's waste teams, and our StreetScene and Building Services teams, will now be wearing new high viz vests while carrying out their roles and these will have support details for Breathing Space, RAMH or the Samaritans on the back. See Laurence Tomlinson (amenity supervisor), Kyle Robertson (chargehand) and Millar McInnes (social transport supervisor) pictured.
"It may seem a small thing to have these contact details on the back of our high viz vests, but it might be the push that someone in the community needs to make contact and get the support they need.
"Our bin collection teams and street cleaners might be stereotyped in a certain way, so seeing them advocating asking for support could make a real difference in someone's decision to reach out.
"No matter who you are, life can be difficult at times so if you need support then please ask for it."
Having lost his brother-in-law to suicide, he knows the difference that talking can make and is determined to help as many people as he can.
"When I lost my brother-in-law, it was an extremely difficult time and I sought counselling to help me through.
"I'm fortunate that I was comfortable doing that as I know that many people, especially men, may feel there is a stigma in asking for help - but we need to change that.
"I want people to be able to ask those difficult questions with the confidence that they are helping someone, and potentially saving a life, as it is so important that the signs of a mental health crisis are recognised early before things spiral out of control."
Also, as part of World Mental Health Day, Breathing Space staff visited the Underwood Road depot to speak to staff and outline the support that they can offer to anyone who needs it.
"Working closely with Breathing Space, RAMH and the Samaritans is great as it makes a wide range of support available for people.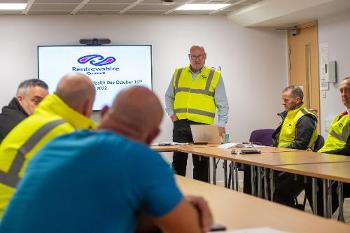 Mental Health Awareness Day workshop 2022 "Within the council, there is a team of mental health first aiders that I am a part of and we're always willing to chat to colleagues who need our support.
"There's also free, confidential counselling available for people who need that extra support and occupation health teams are on hand too.
"The level of mental health and wellbeing support available for staff is great to see as it shows that the council cares and takes an interest in the workforce.
"I hope that all managers take the time to become mental health first aiders and I look forward to delivering more workshops and providing support to colleagues in the future."
If you're struggling with your mental health then please reach out for support. You can find help and advice on our employee wellbeing hub.
If you'd like to become a mental first aider then please get in touch with our HR colleagues who will include you on the next course and you can gain the skills required to support people with their mental health.
Published on Monday 10 October 2022