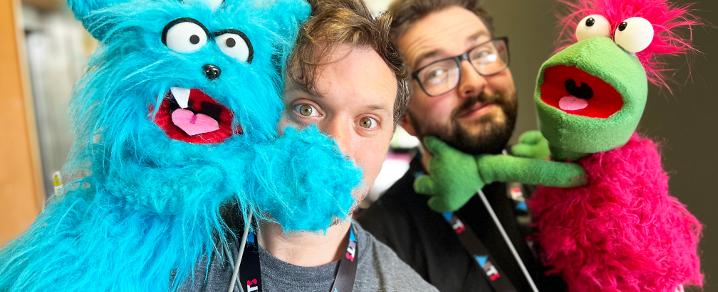 MEDIA RELEASE: Wee Spree festival brings family fun for school holidays
Families looking for fun activities during the October school holidays are being encouraged to check out the Wee Spree programme in Renfrewshire.
The popular festival will take place from 15 - 23 October with a packed line-up of theatre, film, music, dance and more on offer.
Johnstone Town Hall is the venue for Artie's Singing Kettle Halloween Singalong (15 October), acclaimed drama Rocket Post (21 October) and an interactive Unicorn Dance Party (23 October).
Ferguslie's Tannahill Centre will host low-cost screenings of popular family films, with a singalong version of Encanto (17 October) as well as The Bad Guys (18 October), Lightyear (18 October), DC League of Super Pets (19 October) and Sonic the Hedgehog 2 (20 October).
A range of exhilarating performances and classes will take place at Paisley's Methodist Central Halls, presented by award-winning inclusive dance company Indepen-dance. These include the magical adventure Four Go Wild in Wellies (18 October), as well as the chance to Dance Your Socks Off (19 October) and learn popular dance tracks and trends at Tik Tok Moves (19 October).
There's more music fun to enjoy with the free Stramash All-Dayer at The Bungalow, Paisley (20 October). The bumper programme features a family ceilidh, musicians from Fèis Phàislig and the Ceilidh Trail, songs and storytelling from Live Music Now's Traditional Tales for Tiny People and award-winning folksinger Iona Fyfe.
Live Music Now will also present a lively Interactive Music Performance for children and their families at Renfrew Town Hall with violinist Roo Geddes and accordionist Neil Sutcliffe (20 October).
A host of exciting workshops are also available across the school holidays, including Halloween-themed Spooktacular Animation in the Methodist Central Halls, Paisley (17 October), Puppet Patter & Monster Madness at Erskine Arts (17-21 October), and a Circus Taster at Paisley Community Circus, Ferguslie (17 October).
Older children and teens will enjoy the free programme from CREATE Paisley, featuring Papermaking (17 October), an Urban Photo Walk (18 October), T-Shirt Design (18 October), Zine Making (19 October), Ceramics (19 October), Origami (19 October), Songwriting (20 October) and Open Mic (20 October).
To see full details of the Wee Spree programme and purchase tickets, visit https://www.thespree.co.uk/the-wee-spree/.
Tickets for some Wee Spree activities can also be purchased in-person from InCube Shop, 9b Gilmour Street, Paisley PA1 1DG.
Published on 5 October 2022