Renfrewshire's Provost welcomes new sovereign
A Proclamation ceremony was held at the flagpoles outside Renfrewshire House, Paisley, today (Sunday 11 September).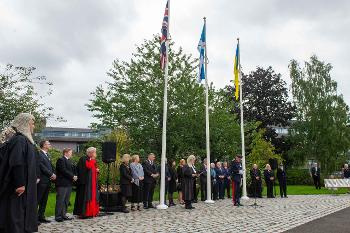 Sean Murphy, Temporary Sheriff Principal of North Strathclyde delivered the Proclamation joined by Colonel Peter McCarthy, Lord-Lieutenant of Renfrewshire.
Renfrewshire's Provost Lorraine Cameron attended alongside Provost Mary Montague of East Renfrewshire and Provost Drew McKenzie of Inverclyde.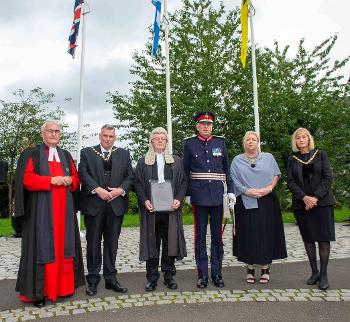 Provost Cameron said: "I welcome the accession of the new Sovereign to the throne and wish him well in this role.
"Her Majesty The Queen was devoted and diligent in her role and her death was very saddening news. I would once again like to express my sincere condolences to the entire Royal Family from the people of Renfrewshire and Renfrewshire Council.
"I am sure many people across Renfrewshire have their own personal memories of The Queen and I would encourage people to sign the books of condolence and remember the important role she played as we continue to mourn her loss."
Read the Proclamation on the Privy Council website.
Books of condolence are available from 9am to 5pm Monday to Saturday at Renfrewshire House in Paisley, Johnstone Town Hall, Renfrew Town Hall and Tweedie Hall, Linwood.
People can also sign the online book of condolence on the Royal Family website.
Published on Sunday 11 September 2022