Meet Mark Conaghan, our Head of Corporate Governance
With four new heads of service taking up post this year, we thought it was time we got to know them a little better. This week we're catching up with our new Head of Corporate Governance, Mark Conaghan.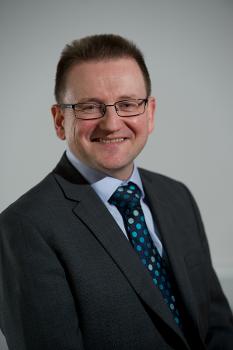 Hello Mark, congratulations on your new post. Can you tell us a bit about your career here at Renfrewshire Council so far?
Hello, thank you. Sure, I started at the Council on a one-year temporary contract back in 2008 as our antisocial behaviour solicitor. I moved on to be the debt recovery solicitor and then managed the litigation and advice section, before becoming the legal and democratic services manager in 2013.
What attracted you to the role of Head of Corporate Governance?
It was a chance to lead the whole of legal and democratic services and to take on a chief officer role. I have enjoyed all of my time here and this was an opportunity to take a greater role in supporting the Council's plans in the coming years.
What opportunities do you see for Renfrewshire and our workforce in the immediate future?
What is that Chinese proverb about living in interesting times? As we emerge from the pandemic and move to towards supporting the COVID-19 recovery in Renfrewshire, there will be many opportunities and challenges that the area as a whole will face and the Council will be at the forefront of those. In the coming months, the return to the office will gather pace and we will establish our new ways of hybrid working. This is also an exciting time with many Council-led projects happening across Renfrewshire such as the museum redevelopment, Paisley Town Hall and all of the City Deal work.
Can you share a memorable experience with us?
My previous post included managing the election office and every election generates its own interesting experiences. Until I worked in elections I didn't know that homework is not the only paperwork that dogs eat; apparently postal votes are very tasty too. I've been told that I was personally responsible for a voter not having someone on the ballot paper they wanted to vote for. But perhaps the most memorable was receiving a call from a presiding officer who wanted to check whether the prohibition on cars with political signage being parked outside of polling stations also applied to horses. And yes, there was a horse, covered in stickers, outside the polling place.
Thank you!
Published on Thursday 8 September 2022