Meet Marlene Boyd, our Head of People and Organisational Development
With four new heads of service taking up post this year, we thought it was time we got to know them a little better. First up is our new Head of People & Organisational Development, Marlene Boyd.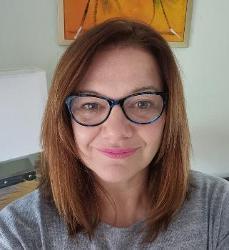 Hello Marlene, we hope you're settling in well. Can you tell us a little bit about your work before joining the Council?
Hello and thank you! Before I joined the Council in January, I was the People Director and Group Director of Organisational Development for an organisation called The Huntercombe Group which is part of the larger Active Care Group. The Group is an independent healthcare business with around 60 services across the UK caring for people from the age of 10 years upwards with mental health, learning disabilities or acquired brain injuries. I worked there for seven years and was responsible for HR, recruitment, learning and organisational development.
What attracted you to the role here at Renfrewshire?
My first reason for looking for another job was a result of the pandemic. I travelled a lot in my previous role which, with two primary-aged children, could be a challenge, so I made the decision to look for a role in Scotland. I loved how the work of my previous organisation impacted on people's lives so I wanted to find something similar and I believe a local authority has a huge impact by improving outcomes for the local people. In terms of why Renfrewshire in particular, I saw the values work that the council had embarked on and they really resonated with me while the role itself offered a breadth of opportunity to influence HR and Organisational Development across the organisation.
What opportunities do you see for our workforce in the immediate future?
What I heard about the workforce before I joined was pretty extraordinary. The commitment and resilience over the last two years has really shown what a great bunch of people work here. It's vital that we don't lose sight of what we learned through that experience as we continue to live our values and ensure the council is a great place to work. I think what is important in the short term though, is allowing people to reflect on their own personal experience throughout the pandemic and ensuring we have support and understanding in place for those who need it. The health and wellbeing of our colleagues will always be one of our top priorities and I look forward to sharing updates on our plans in the near future.
Can you share a funny or memorable experience with us?
Sure. I had a wonderful family experience recently. At the end of last year, I travelled to Finland with my husband and children. We had a snowmobile experience to go and see the Northern Lights which was fantastic and something we'll always remember. It was, however, minus 35 degrees and you couldn't stand still and blink otherwise everything started to freeze up!
Published on Thursday 28 July 2022