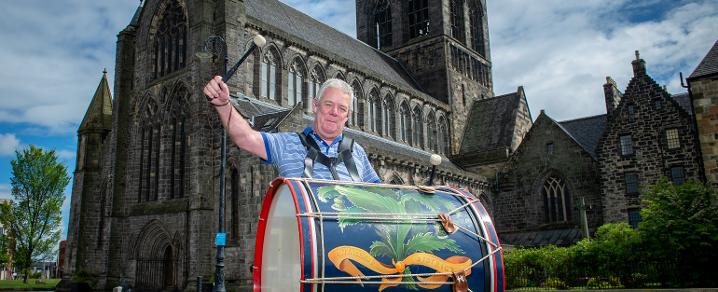 MEDIA RELEASE: Paisley's Sma' Shot Day celebrations take place this weekend
Paisley's annual Sma' Shot Day takes place on Saturday (2 July) with a day-long extravaganza of family entertainment in the town centre.
The event, which is one of the world's oldest workers' festivals, begins at 12 noon as the spectacular Sma' Shot Parade sets off from Brodie Park.
Led by the sound of the Charleston Drum, the parade will make its way through the town to the main event site at Abbey Close and Bridge Street. It will be followed by a performance from local dance group right2dance and the traditional Burning of the Cork - a highlight of the Sma' Shot Day celebrations.
This year's Sma' Shot parade is being co-ordinated by Bridgeman Arts in collaboration with local community groups and performers to tell exciting, undiscovered stories of weavers' pasts as part of Scotland's Year of Stories 2022.
Families can enjoy an afternoon of live entertainment in Abbey Close with performances on the main stage from PACE Youth Theatre, who will re-enact the struggles of the Paisley weavers in their efforts for payment of the Sma' Shot, the Starlight Music Theatre adult rock choir and swing band, Shaz Martin and The Well Happy Band.
Professional aerialists from All or Nothing Aerial Dance Theatre will be on hand to dazzle visitors with acrobatics and performances. They will also host exciting 'Watch, Fly, Come and Try' bookable workshops for kids and adults to try out trapeze and other activities for themselves.
A 'Doon the Watter' seaside experience can be found in Abbey Gardens, equipped with deck chairs and a beach. Plus, there's circus skills, bubble making and carnival fun from Paisley Community Circus and Big Top Circus and a performance from the RockUs community choir.
Local designers and makers will showcase their work at the contemporary Sma' Shot Makers' Market at The Art Department creative space in The Paisley Centre. Visitors can browse and purchase fantastic items, such as clothing, jewellery, accessories, interior design, gifts and souvenirs - and visit the mobile Future Paisley exhibition.
The Bungalow venue will also host an all-day programme of live music, including a kid's ceilidh in the afternoon and the popular Poetry Slam in the evening.
The historic Sma' Shot Cottages will be open for tours across the day, giving visitors the chance to take a trip back in time and see what life was like as a weaver in Paisley in the 18th and 19th centuries.
Sma' Shot Day is organised by Renfrewshire Council as part of the area's major events programme.
Renfrewshire's Provost Lorraine Cameron said: "Sma' Shot Day is one of the highlights of our annual events calendar which attracts thousands of visitors to the area each year.
"This year's jam-packed programme has even more for families to enjoy - from the spectacular parade and Burning of the Cork to fantastic workshops, live entertainment and fascinating tours of the Sma' Shot Cottages.
"I can't wait to see everyone turn out on Saturday to celebrate the town's rich history and creativity together."
This year's Sma' Shot Day celebration is part of Scotland's Year of Stories 2022 Partner Events Programme.
To find out more about the event and to book places at workshops, visit: https://paisley.is/featured_event/sma-shot-day/
Published on Wednesday 29 June.