Message from Chief Executive, Alan Russell - Thursday 16 June 2022
The Council's Management Team and I have been assessing the impact of the recent Scottish Government spending review announcement and how this will impact on our finances.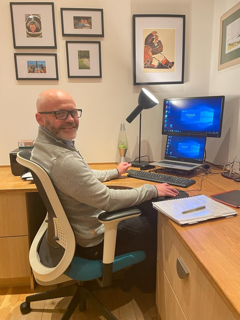 It will undoubtedly be a challenging time for the council and there will be difficult decisions to be made about how we manage our budget in the future. More work will be done on this in the coming months, and I'll keep you updated as we progress.
I'm also acutely aware that households across the country are feeling the impact of the increase in living costs. If you are struggling with money, talking about it can be difficult. We want to make it simple for people to get the help they need when they need it. The Financial wellbeing section of the Taking care of our employee wellbeing webpage is a good place to start if you think you need help or financial advice.
I've really enjoyed spending more time back in an office environment recently, meeting up with elected members and colleagues from across the council. It's been great collaborating and catching up with colleagues in person again, and I'm looking forward to seeing more of you back in the office over the summer as we progress our work to reconfigure our buildings and workspaces in line with our new ways of working.
I'm also looking forward to getting out and about in the coming months, to meet more of you and learn about your experience of the past two years. This week I met with colleagues from our Environment and Infrastructure service to recognise and hear first-hand more about some of the great work they've been doing, particularly around wellbeing. We're looking at what we can learn from this to help shape wellbeing support across the organisation so please watch this space for more updates.
Good communication has been key to our ability to continue to deliver essential services particularly over the last two years, and I would encourage colleagues to complete our staff communications pulse survey. It will take no more than five minutes to complete and is your opportunity to let us know what you think about our internal communications and how we can improve them. You might even win tickets to a show of your choice at The Spree 2022, as Paisley's popular music, comedy and arts festival returns for its 10th year with a cracking line-up. To be in with a chance of winning simply click here to have your say, or visit the Staff info section of our website for more information.
Thanks
Alan