Message from Chief Executive, Alan Russell Thursday 19 May 2022
We held our first council meeting of the new term today (Thurs 19 May) where key roles and policy boards were all decided.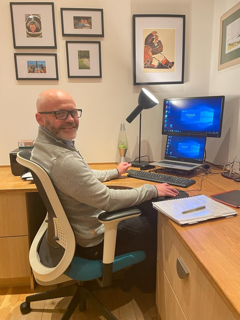 Since the election, officers from across the council have spent the last few weeks with Elected Members, some of whom are returning and some new, and we look forward to working closely with them over the coming years to serve our local communities. You can read more information on the appointments and boards here Latest staff news - Key roles and policy board appointments. I'd like to thank all the teams involved in supporting elected members as they prepare for the new session.
Connecting with colleagues
It's been great to spend some more time in the office meeting colleagues and reconnecting with people. Some of the restrictions we've had in place have now eased and I'm looking forward to being able to spend more time meeting colleagues across our services to hear more about your work first-hand.
Back to in-person events
It was also great to see a buzz about Paisley Town Centre with the recent Food and Drink Festival. The return of this popular event in-person was clearly a welcome date in the diary for people with thousands turning out over the two days. Our teams are working on a programme of events across the region, supporting local community gala days as well as larger scale events and its evident people are really looking forward to spending more time together now public health restrictions have been lifted.
Equality and diversity
On Tuesday we flew the Pride flag outside the council headquarters on Cotton Street in Paisley to mark International Day Against Homophobia, Transphobia and Biphobia. It will also fly in June in support of our LGBTQ+ community. We play such an important role in delivering vital services to our local communities and it's imperative, as a welcoming and diverse organisation, that we reflect the communities we serve and ensure everyone has equal access to opportunity.
Our values of being fair, helpful, learning and great collaborators set the standards for everything we do here at the council and have been informed by what you told us. We're currently refreshing our equality, diversity and inclusion strategy and I'm looking forward to talking about this more in the coming months.
Keeping you up to date
The past few years have really changed how we keep in touch - whether that's at home or on the move, with friends and family or at work. As such, we've developed the staff section of our public website so its accessible to all staff, at any time from any device, simply by visiting www.renfrewshire.gov.uk/staffinfo. Here you can catch up on the latest news from across the council, read stories from colleagues across our services and visit our dedicated section for wellbeing support with a range of free resources you can access to help you on anything from how to improve your physical or mental health, to where to get support or financial advice. The new section will allow us to provide more regular updates and if you've any feedback or ideas, we'd love to hear about it - please email internalcommunications@renfrewshire.gov.uk
Thank you.
Alan