Emma McCrystal reflects on this year's Big Spring Clean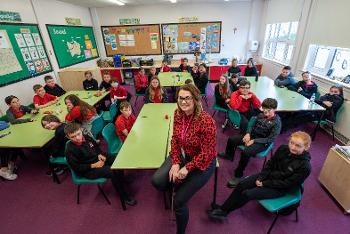 "Aaand breathe. What an April that was!"
Senior Community Safety Officer, Emma McCrystal, helps coordinate the volunteering for the Big Spring Clean, part of the Team Up to Clean Up campaign, and it's been another eventful month of daily litter picks to support.
More than 1,500 volunteers took part in 544 litter picks collecting 2,489 bags of litter - that's 82 bags of litter and 18 litter picks every day in April!
Emma (pictured left with pupils from St Peter's Primary), liaises with the volunteers from community groups, businesses, schools and individually to ensure that they have the equipment they need to take part, and are well aware of the health and safety measures they must follow.
The Wardens service support the safety messaging and the delivery of the equipment, while the StreetScene team head out to collect the bags of litter and any fly tipping after the litter picks have taken place.
Emma said: "It's been another incredible month as the volunteers and our teams work together to make Renfrewshire a cleaner and nicer place to live and work.
"I feel like I've barely had a minute all month, but that's great as it means that so many people are taking part and making our communities a better place.
"It's really so rewarding to be part of this litter picking family as everyone is so positive and enthusiastic about making things better and that makes coming to work every day that little bit better too."
As well as supporting the litter picks, Emma has been out visiting schools across Renfrewshire to give presentations on the environment and encouraging young people to take care of where they live.
"A big part of my job, that I love, is going into schools and speaking to the young people about the environment and how important it is that they take care of it.
"I can see the enthusiasm our pupils have and, especially in our younger pupils, the genuine confusion as to why you would throw litter away when it can hurt the environment and wildlife.
"Littering is a learned behaviour, so we'll continue to work hard to encourage our young people to lead from the front and challenge those friends who drop litter to stop doing it."
As Rhys, P5 at Gallowhill Primary, said: "We only have one planet and if it gets destroyed, it's our fault."
Get involved
Don't forget that you can take volunteering days, so speak to your line manager if you want to take part or host your own litter pick during core working hours.
If you don't fancy doing it on your own, why not ask your team to take part with you? With all that's happened over the last couple of years, we've all missed the friendship of our colleagues in-person so this could be the perfect opportunity to reconnect.
We'll provide litter pickers, hoops, bibs and bags for anyone or any group wishing to take part in a litter pick, and our StreetScene team will collect your bags of litter afterwards too.
For more info, visit www.renfrewshire.gov.uk/teamuptocleanup or drop Emma an email.