Message from Chief Executive, Alan Russell - Thursday 21 April 2022
I would like to wish you and your families a very happy Easter and for those who have had time off, I hope you managed to get some well-deserved rest and spend some time with your family and friends.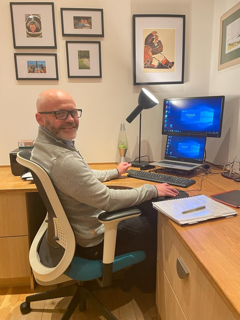 I would also like to sincerely thank all our colleagues who continued to work throughout the holiday period working round the clock to keep our communities moving, safe and well.
On Monday 18 April, the last remaining COVID-19 rules and restrictions were removed by Scottish Government. This means that free lateral flow test devices (LFDs) for twice weekly testing are no longer widely available, though free tests will continue to be available for health and social care workers, and while face coverings are now optional, it is still strongly recommended they should continue to be worn on public transport and in indoor public spaces.
The change to guidance means we have also been reviewing the measures in place across council buildings and while face coverings are now optional, in line with Government guidance, we are continuing to advise they should continue to be worn in indoor public spaces and we support anyone who wishes to continue to wear one when moving around our buildings. The virus has not gone away and by following these measures you can help keep yourself and your friends and family safe. You can read more about the measures in place at council buildings to keep all users safe and well on our website.
As the requirement for routine testing for the general public has now been removed, from Saturday 30 April local PCR test sites across the country will also no longer be available to the public. This includes test sites at Bridge Street in Paisley and Charles Avenue in Renfrew, though anyone who has symptoms of COVID-19 can still book a PCR test until the end of the month. You can read the Scottish Government's Test and Protect transition plan in full on their website.
I would like to take this opportunity to recognise and thank all our colleagues who have been working for almost two years to support testing across our wider community. Regular testing has been key to suppressing the virus and reducing its impact on our health and the wider social and economic harms caused by the pandemic here in Renfrewshire.
Everyone will have seen the upsetting news and footage coming out of Ukraine and be aware of the devastating impact on the country's citizens. As the war continues, we want to do everything we can to help and support Ukraine and its people during this time. We have donated £10,000 to the Disasters Emergency Committee (DEC) and are working with our partners to ensure we are ready to accept people seeking asylum and refuge and ensure anyone who does arrive in Renfrewshire is given the help and support they need. I would like to thank everyone who has been involved in preparing our response and more information about what you can do to support is available on the council website.
As spring appears to have finally sprung, I hope you are managing to make the most of the better weather and the longer, lighter evenings. Your physical health has a big impact on how you are feeling, so whether it is going out for a walk or a run, or simply spending time in the garden or at a local park, little changes can have a big impact.
April is Stress Awareness Month and throughout the month we have been sharing information and advice on how to spot the signs of stress, ways you can manage and decrease stress and find help and support when you need it. More information and support is available on our wellbeing hub.
Thank you
Alan