MEDIA RELEASE: 'Life-changing' internship in Renfrewshire for young adults with a learning disability
A life-changing programme helping young adults with a learning disability or autism transition to employment is now recruiting for its 2022-2023 intake in Renfrewshire.
Renfrewshire Council, Glasgow Clyde College and DFN Project SEARCH launched their partnership in 2015 to give young adults with a learning disability or autism in the area vital work-based learning opportunities and to help them to secure meaningful employment.
The free one-year internship for people aged between 17 and 29 provides a combination of classroom-based learning to develop employability skills and work placements with the Council and local businesses and there are 12 places available on the 2022 programme.
It helped Andrew McSorley, from Erskine, who is now celebrating his third year working at the Council as an Assistant Compliance Officer.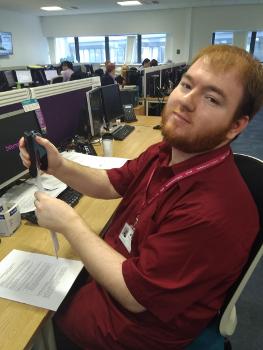 Andrew, 25, said: "I enjoyed the opportunity to learn what my skills were and how best they could be applied to different positions within the workplace.
"I greatly enjoyed learning the tips and strategies to increase my chances of being selected during the employment process, but most of all, I enjoy having secured a job thanks to the skills I learned.
"Project SEARCH is well worth the time. I was very nervous and felt out of my depth when looking for jobs, but since completing it I've had two jobs, one with the Company Shop group before moving on to the position at the Council. I've never been happier."
An information session is being held on Tuesday 29 March from 5pm to 6pm at the Learner Development Hub at West College Scotland on Renfrew Road for anyone interested in finding out more about the internships in Renfrewshire.
Anyone interested can register to attend by contacting our employability team on 0300 300 1180 or by email to invest@renfrewshire.gov.uk.
Michael Moran, Assistant Economic Development Manager at the Council, said: "We're very pleased to be recruiting for our eighth intake of DFN Project SEARCH interns and to soon welcome these fantastic young adults to the council and help them develop their skills and confidence.

"I'm proud of our continued contribution to help young adults with a learning disability into employment and I really hope some of our next 12 interns will also, like those who graduated before them, be able to find jobs with us as well as other local employers."

Across the UK, more than 1600 young adults have now graduated from DFN Project SEARCH programmes, with 70 percent of interns securing employment against the national average of just 5.6%.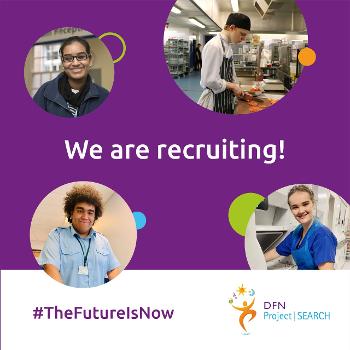 The programme has also delivered an impressive success rate during the Coronavirus pandemic, with young adults performing brilliantly in front-line roles with the NHS and across local authorities.
DFN Project SEARCH CEO Claire Cookson said: "We are very proud of our programme here in Renfrewshire. Our mission is to build a more inclusive society by helping to create much improved career opportunities for young adults with a learning disability.
"Our life changing programme is proven to work and we are looking forward to engaging with young adults and their families in Renfrewshire as we forge ahead with our goal of transforming workplace culture and building a more fair and inclusive society for all."
Published on 24 March 2022