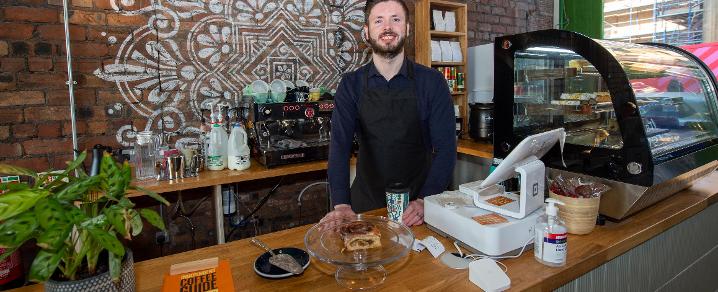 Nomads' Coffee Shop in Paisley the latest local business to sign up to our active travel campaign
Local coffee shop Nomads' have become the latest local business to sign up to our Not Far? Leave the Car campaign.
Not Far? Leave the Car
More than 500 people have downloaded the free app already and are receiving points for walking, cycling, using public transport or any sustainable journey that means lower emissions than using the car.
Points can be turned into prizes or discounts at local Renfrewshire businesses using the app, with more local and national businesses being added every day.
To take part, download the BetterPoints app to sign up to the Renfrewshire campaign and start tracking your day-to-day journeys.
To do this, visit Not Far? Leave the Car.
"a fantastic way to get active"
Amit Biswas, Owner of Nomads' Coffee Shop, said: "The new campaign is a fantastic way for people to get active, so I'd encourage everyone to download the app today and get involved.
"If you're out on a walk, cycle or using public transport then stop into Nomads' to use your collected points - we'd love to see you."
Why we've launched this new campaign
It's part of a drive to lower emissions as we aim to make Renfrewshire net-zero by 2030 and to promote healthier, more active lifestyles for local people.
The project has been funded by the Scottish Government and is provided by BetterPoints Ltd.
Published 18 March 2022.