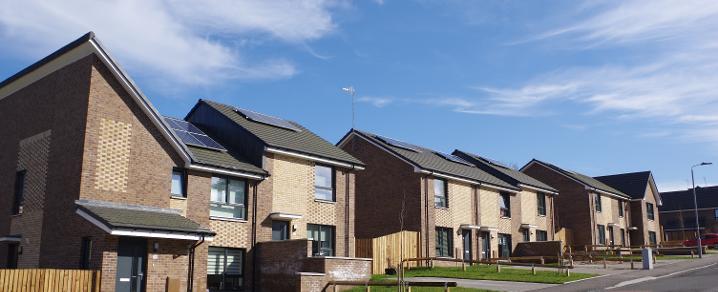 Budget agreed for £266m council housing investment by 2027
Renfrewshire is in line for its biggest investment in housing for a generation - as part of a five-year £266million budget agreed by councillors.
Councillors approved the housing capital investment plan for 2022 to 2027, which sets out how existing plans to build new modern council homes across Renfrewshire will be funded, during their budget meeting today (Thursday 3 March).
It includes £129million to improve existing council homes - covering external improvements including new roofs, as well as new or improved kitchens or bathrooms, and electrical wiring and heating upgrades for some properties.
What is planned for new-build housing?
The capital investment plan includes the ongoing £100million Housing-Led Regeneration and Renewal Programme which aims to invest in housing areas and create modern, high quality, energy-efficient and affordable council housing throughout Renfrewshire.
The areas are: Auchentorlie Quadrant/Seedhill Road, Howard Street area, Waverley Road, Thrushcraigs, Ferguslie/Broomlands, Springbank area (all Paisley) as well as Moorpark in Renfrew, and Howwood Road in Johnstone.
Affected residents were last year consulted on initial proposals for their areas, which will see improvements to existing properties and the common areas around them, with potential for demolition and new-build in some areas.
Other current council new-build projects include 39 homes almost complete at Auchengreoch Road in Johnstone and 101 under construction in the Tannahill area of Ferguslie Park, to add to those recently completed at Johnstone Castle (95 homes) and Bishopton (80 homes). Plans are also being developed for more new council homes in Gallowhill and Foxbar.
What does it mean for rents?
To help make all of the above possible, a 2% rent increase has been agreed. In a phone survey of more than 600 tenants earlier this year, 93% said they supported a rent rise of 2% or more, with improvements to existing homes, more new-builds, and improved energy-efficiency their top priorities for new investment.
Councillors also agreed the Housing Revenue Account Budget for the coming year, which will set out how housing services will be funded over the next year, including an increased budget for ongoing repairs and maintenance work.
What's been said about it?
Councillor Marie McGurk, Convener of Renfrewshire Council's Communities, Housing and Planning Policy Board, said: "The huge level of investment set out today matches our ambitions for Renfrewshire to be recognised as a great place to live, work and invest.
"The plan shows how we will deliver new-build housing projects across the area on a scale Renfrewshire hasn't seen for many years.
"At the same time, it lays out how we will continue to modernise existing properties to meet what people want for 21st-century living, making homes more energy efficient and keeping fuel bills down.
"That investment supports our wider plans to help support the area's social and economic recovery from the pandemic in the years ahead."
Published on 3 March 2022