Message from Chief Executive, Alan Russell Thursday 24 February 2022
I'm sure like me, you were heartened by the Scottish Government's update this week setting out plans for the further lifting of restrictions next month.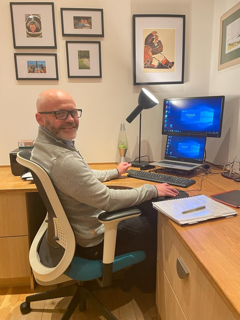 This will begin on Monday 28 February when the mandatory vaccine passport scheme will come to an end and the remaining legal restrictions will be phased out on 21 March - including the requirement for people to wear face covering in enclosed spaces and on public transport.
This staged approach aims to help us recover from the ongoing coronavirus pandemic and live safely with the virus. You can read the Strategic Framework update in full on the Scottish Government website, however in summary it outlines that thanks to the progress in vaccination and treatments - the intention is to rely much less on legal requirements going forwards and much more on people and organisations taking basic, sensible steps to reduce the risk of and harm from COVID-19.
While this is undoubtedly good news, if the past two years has taught us anything, we must remain vigilant and face coverings will still be strongly recommended in indoor public places, including all council buildings, and on public transport. We will still be encouraged to test regularly, using free Lateral Flow Tests and self-isolating if testing positive. It's hoped this less restrictive approach will support the broad recovery and better future we all want to see.
How we learn to live and work with the virus was a topic of discussion at my Corporate Management Team meeting earlier this week. It was great to meet up with colleagues in person and amongst the many things we discussed, was the real opportunity we now have to take the necessary time to design a longer term new way of working - that works for everyone, regardless of which service or how or where you currently work.
Getting input from staff will be key and I have been, and will continue to get out and meet with teams from across the council, to listen to and understand your experiences of the pandemic. I want to know what has worked well, what hasn't and whether we can help tackle any of the barriers you may have faced. Your comments and feedback will help inform and shape our new ways of working, which I am confident will reflect a modern organisation, supporting our workforce wellbeing and fully connected to the communities we serve.
In the meantime and to support colleagues who would like access to safe and flexible office space, we have invited colleagues, currently working from home as well as those based in the community, to book a desk for up to three days a week at Renfrewshire House, using the online desk booking system. Whether it's for wellbeing or in person meetings, we hope this helps you achieve the balance and flexibility between working at home and in an office, that many of you told us you wanted in last year's smarter ways of working survey.
Anyone who has been into Paisley town centre this week, can't help but have noticed that something big is coming to town. From Monday, Paisley will play host to About Us, the UK opening event of the Unboxed: Creativity in the UK programme of major celebrations taking place across the UK this year.
Designed in collaboration with all four nations, Unboxed aims to showcase the best of our art, culture, heritage, design, and technology sectors, with a huge focus on public participation and engagement.
All eyes will be on Paisley Abbey from Monday 28 February (until Sunday 6 March) as it's transformed into a huge canvas with stunning multimedia installations and live performances, many from local children and young people, celebrating 13.8 billion years of life, the universe and everything in it. Weather permitting, it will be a great start to the year and I'm looking forward to our exciting events programme lined up for the months ahead and delighted to see more of the in-person events taking place after the last couple of years.
You can find out more about this free interactive event and any related road closures on the council website. Colleagues working at Renfrewshire House are reminded that the building will only be accessible from Bridge Street during this time.
We've had plenty of winter weather over recent weeks and I'd like to take the opportunity to thank all our colleagues who continue to provide services round the clock that help keep our communities safe. Whether that's keeping our roads clear or supporting the most vulnerable in our communities, your hard work and commitment plays a critical role in supporting local people and maintaining vital public services. Thank you.
And finally, after more takes than I care to remember, I spent Monday morning with our communications colleagues, filming my responses to your Ask Alan questions. Given the volume and variety of questions received, we have focused on key themes broken up into a series of short films, the first of which will be shared with you all next week. I'd like to thank everyone who submitted a question and assure you that I have tried to answer them as openly and honestly as I can.
Thanks
Alan