Message from Chief Executive, Alan Russell - Thursday 10 February 2022
With COVID-19 case numbers falling, there is increased optimism that we are through the worst of the Omicron wave, and hopefully a more sustained return to normality for us all. This gives us the best opportunity to date to learn how we live with the virus going forward.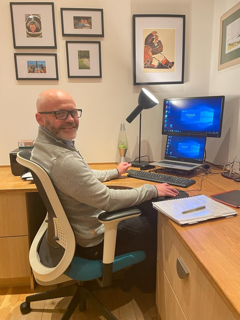 You have shown tremendous resilience and flexibility over the past two years, and I couldn't be prouder of the way colleagues continue to support each other and the people and communities who rely on our services every single day.
I know at times it's probably felt like the most challenging time of your career so far. While everyone has been impacted by the pandemic, you have also been working and adapting to continue to deliver vital services to communities and businesses impacted by the virus, as well as supporting our NHS and social care colleagues in the biggest public health operation the country has seen.
As we look to the future, we want to make sure we capture what has worked well and look at the challenges ahead. What is clear is that this pandemic is not over and while we hope that it is easing and will allow us more of the freedoms we have sacrificed over the past years, we will still need to be able to flex and show our resilience in the months ahead.
I'm working with my management team to arrange visits to meet staff from across our workforce in the coming months so you can share your recent experiences and help us design a longer-term model for our future ways of working.
Our schools and our children and young people have been impacted more than most and I was fortunate to meet up with some of our Head Teachers last week to hear first-hand about their experiences. I was so impressed by their commitment to providing a safe environment for their pupils and colleagues and I will be meeting with senior school pupils in the coming weeks to hear about their experiences. All this feedback will help inform and shape our work in the coming months as part of our recovery plans.
This was one of the reasons behind the launch of 'Ask Alan' and I'd like to thank everyone who took the time to submit a question. I am currently working my way through them all and will be responding shortly so please, watch this space.
Following the recent change to the working from home guidance in favour of a 'hybrid' approach of office and home working, from last Monday colleagues currently working from home who want to be back in the office or have access to office space, have been able to book a desk at Renfrewshire House for up to three days a week using the existing desk booking system.
Whether it's for wellbeing or in person meetings, we hope this helps colleagues achieve the balance and flexibility between working at home and in an office, that many of you told us you wanted in last year's smarter ways of working survey.
We are currently continuing to limit capacity to ensure a safe working environment and you can read about what we are doing to keep all users of the building safe and healthy on the Working at Renfrewshire House webpage.
With the upcoming increases to energy bills making headlines, many of you or people you know may be concerned about the rising cost of living. The council has an advocacy service to give independent and expert advice on a wide range of energy issues to local people and our Advice Works team are also on hand to help with general money advice including managing your budget, dealing with debt, and identifying any additional support you could be missing out on. So, if you are anxious or struggling, or know someone that is, then please reach out and visit www.renfrewshire.gov.uk/article/2738/Energy-advice-and-advocacy for advice and information on what support is available.
Thank you.
Alan