Message from Chief Executive, Alan Russell Friday 28 January 2022
It was encouraging to hear this week that there has been a significant reduction in the number of cases of COVID-19 and that the number of people being admitted to hospital with the virus has also fallen, as has the number in intensive care.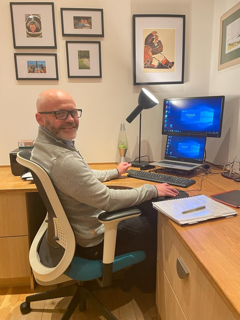 On Monday many of the restrictions introduced to stop the spread of the Omicron variant were removed and given the improved situation, Scottish Government has confirmed the further easing of restrictions and you can read the latest guidance on Scottish Government Website.
While the numbers of cases are falling, this is still a highly transmissible variant and to minimise the spread of this and future variants, there will now be a change to the working from home guidance in favour of a 'hybrid' approach of office and remote working. I would like to assure colleagues currently working at home that while we await further guidance, we are looking at how we make best use of our office space and access to the office and your manager will be in touch with you shortly to discuss.
In last year's interim working survey, you told us about the benefits as well as the challenges you've experienced working from home. Our approach will look to reflect this balance, taking advantage of what has worked well, as well as recognising the benefits of working in an office environment.
As we continue to learn how to live with COVID-19, the other big challenge, affecting us all is climate change, and I am committed to ensuring it's considered in every decision we make. As a Council, we only contribute about 3% of the area's total carbon emissions which shows the importance of working with our partners and empowering local communities and businesses, so that together we can achieve our goal of making Renfrewshire a cleaner, happier and healthier place to live.
Our £50,000 Community Climate Fund is a great example of listening to and empowering local communities. When the fund launches on Monday 31 January, local community groups and organisations can bid for up to £3,000 for projects which respond to the climate emergency and make a difference in their local communities.
For more information on the Council's climate change ambitions, and some of the projects currently underway, visit www.renfrewshire.gov.uk/climatechange, or please take the time to meet our Climate Emergency Lead Officer, Roz Smith and read how she hopes to help us achieve net-zero by 2030.
Last week I was delighted to visit a new exhibition showing how the area is being transformed over the next few years using the power of culture.
The Future Paisley exhibition looks at the town's fascinating past, present and future, while using innovative digital technology to bring to life the collection of exciting projects currently happening in the area.
It's in the town's Piazza shopping centre until mid-March, open every Wednesday to Saturday, and free to enter. More info is on the Paisley.is website.
I would like to congratulate colleagues from our Customer Service Development and Technology Team, We're Safe and Well and Developing Communities teams, who have been short listed for awards at this year's COSLA Excellence Awards, which recognise outstanding work in local government. The awards will take place in February and I wish you all the very best of luck, it is very much deserved!
I would also like to welcome two recent arrivals to the Council family, in Marlene Boyd our new Head of People and Organisational Development and Tracey Stewart, as Head of Schools. I'm sure you will join me in providing them with a warm welcome, and I look forward to working with them both.
Finally, it's been great to see your questions coming in for 'Ask Alan' and I would like to thank anyone who's taken the time to submit a question so far. I'm really keen to hear what's important to you and provide an opportunity for you to get to know me a bit better, so if you haven't yet submitted a question, please make sure you get them to me by the end of today, Friday 28 January.
Send your questions by email to 'Ask Alan' or by text to +447985715099.
Thank you.
Alan